Since next week is my monthly wrap-up post and I saw that I had a ton of pictures of my flowers, I decided to share what's been blooming in July this week 🙂
First I'll start out with this image of the two different sized flower pots on my front steps. The one on the left is the one the deer got into, ripped to shit and then spit OUT what they'd destroyed–they didn't even eat it! So the million bells planter on the right looks much better.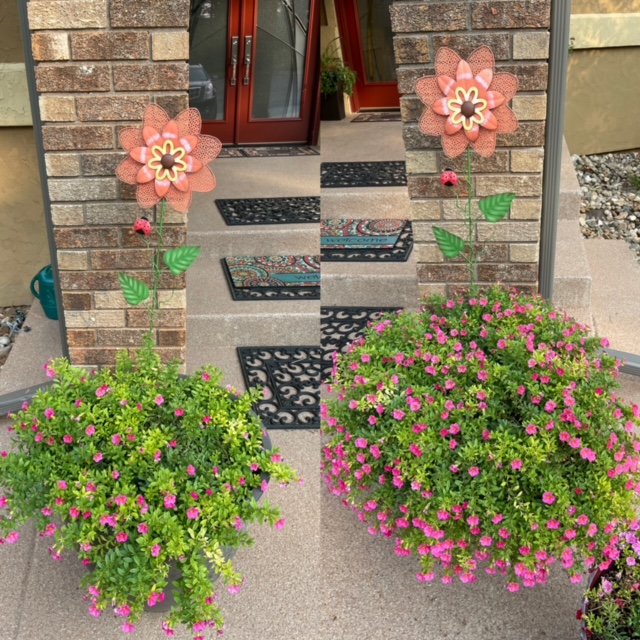 Right now my favorite flower– Stargazer lilies–are blooming. The scent is ambrosia and they're so pretty. The pic on the left is of the single bloom variety and the right picture shows the extra set of petals this variety has: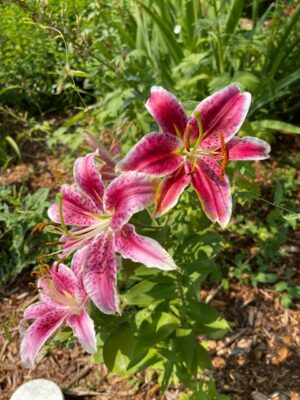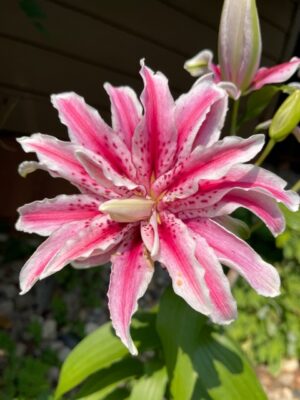 I'm terrible about keeping track of what I planted. This bloomed in early July and I have no idea what it is. Not hollyhock, because I hate them, but something I planted 2 years ago because this didn't bloom last year.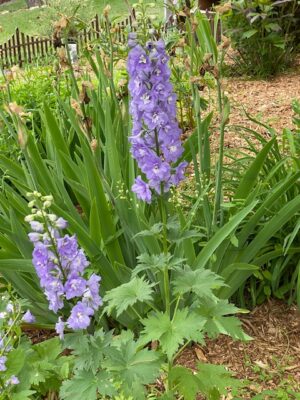 Have you ever heard of Joe Pye Weed? I know, weird to pay money for something that literally has "weed" in the name! I planted one out front because I wanted some height variety and then this year I found another plant (they are hard to come by here for some reason) and planted it next to my hibiscus.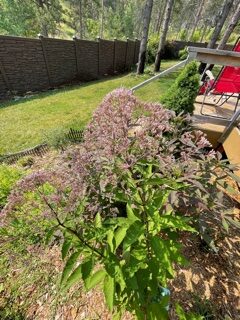 I love cone flowers, or blanket flowers as some people call them. Both of these plants are new this year to replace the plants that didn't survive the winter.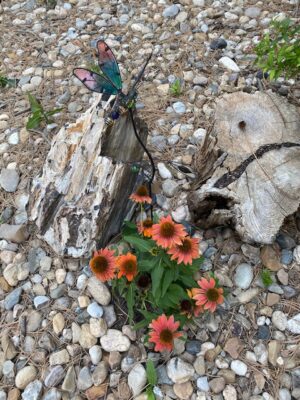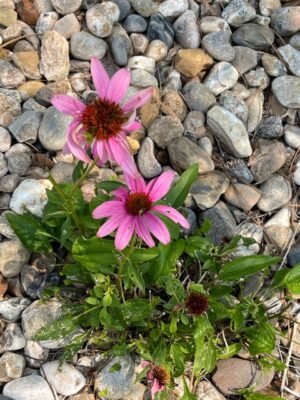 I wish I would've taken some pictures of the gorgeous wild lavender bee balm that is blooming everywhere in the Black Hills right now! Instead I'll share the two varieties I have: dark pink in the back garden and the red variety out front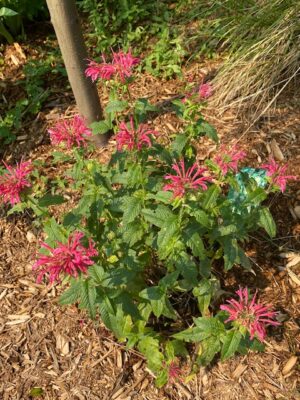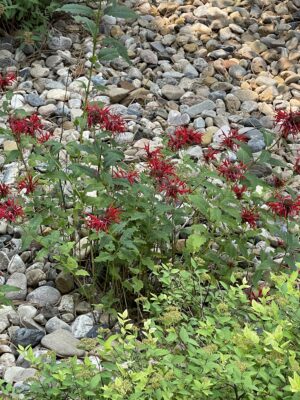 It seemed to take forever for the lavender to bloom this year…anyone else have the same thing happen? Worth the wait though 🙂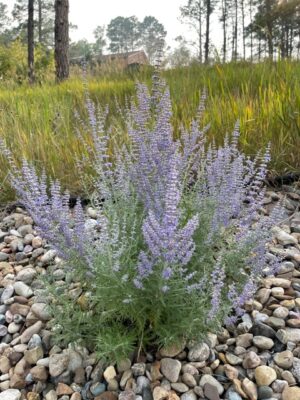 This yellow yarrow looks a bit floppy, but it is in much better shape than the red yarrow I have out front which is completely bleached out!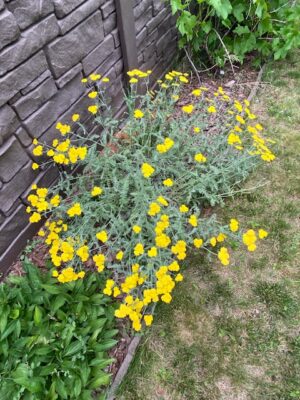 This is the first year that the orange day lilies D2 dug up from her house HERE (she moved 3 years ago) actually bloomed! The plant itself has always been healthy it just never bloomed. For some reason the voles left the burgundy day lilies alone so I was happy to see them bloom too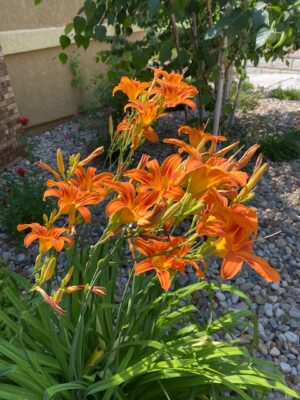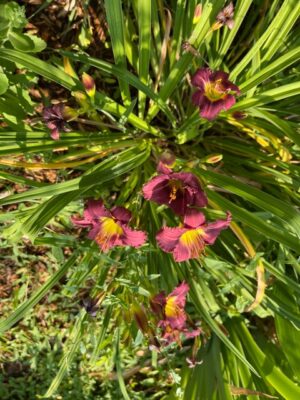 I planted 2 of these…oh 3 years ago? The damn deer get the one closest to the road, but these put on a good show this year. They are taller than Mr. James! They're some kind of black eyed Susan/coneflower variety — again, I can't remember but I'm glad this one survived the deer buffet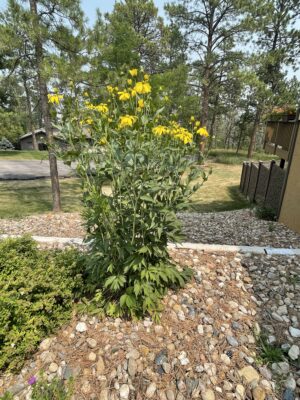 I really enjoy planting annuals and I went a little overboard this year. But they look so good and caring for them makes me happy, so win/win, right? Coleus do amazingly well on my decks. I have 3 of these big containers, each is planted with just coleus varieties. I opted to only take pics of one of them, and this is the biggest grouping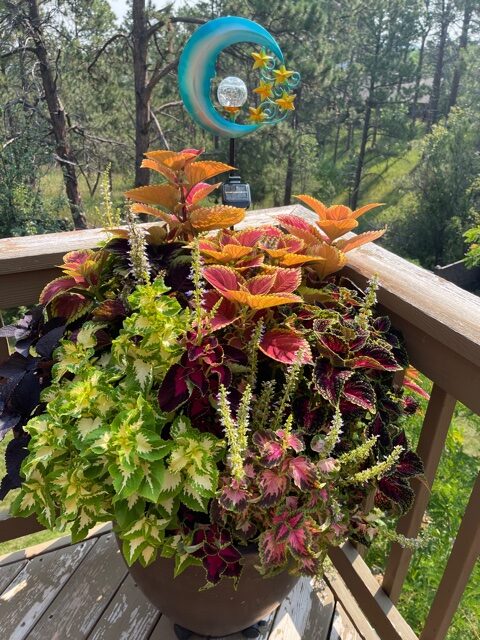 Since our back deck gets so hot you can't walk on it during the heat of the day, I have to plant heat-hardy flowers. I've found that lantana does very well and I love that there are so many color options available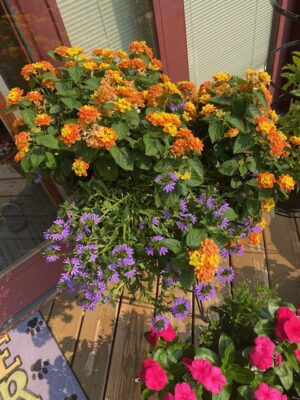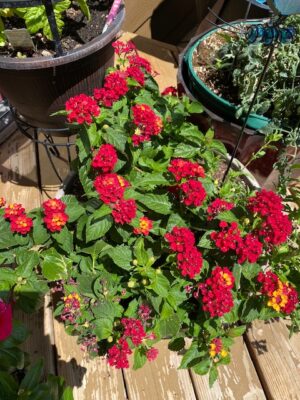 I found this plant at Fleet Farm and although they look like moss roses, they aren't. It is very full and the blossoms close at night. The basket below it is verbena.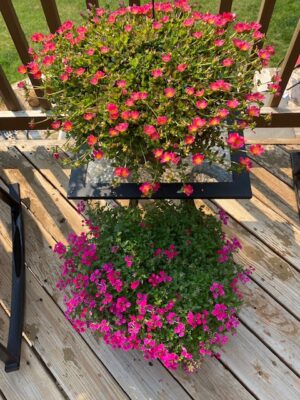 I have lots of square feet of deck rails, so that's where the bulk of my flowers end up. I bought 4 new containers this year and yep, I filled every one of them. I prefer a wild flower look, where I mix all sorts of colors together 🙂 Geraniums, pansies, some purple vine, and marigolds in image 1, image 2 is dragon's breath, double begonias, moss roses and ivy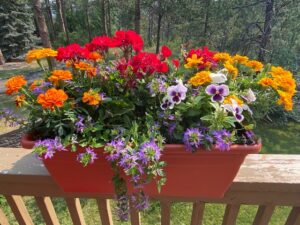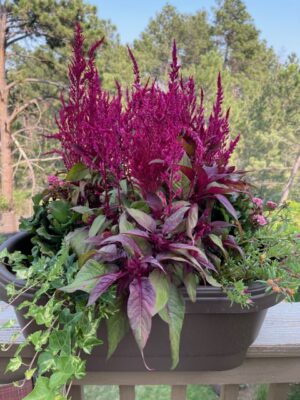 The left is zinnias, marigolds, a mounding succulent and some variety of a lipstick vine. The second is a close up of a cactus that looks like a big diamond is nestled inside but it's just a raindrop!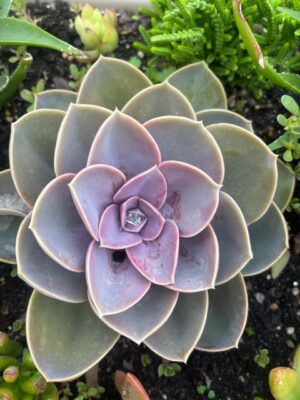 These are just 2 random baskets but I love how colorful they are!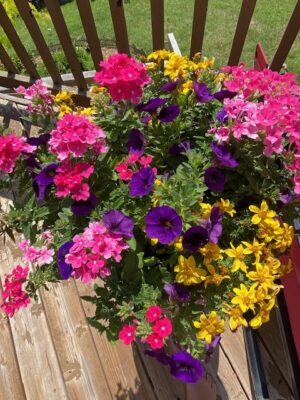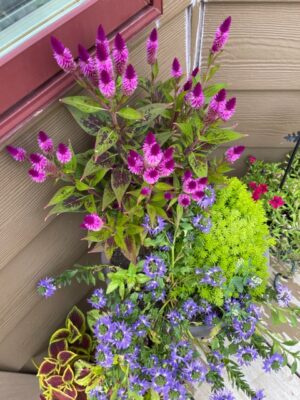 If I come across any pics that I missed — trust me, I have WAY more flowers than this on my decks! — I'll post them next week.
Hope you're all staying cool and enjoying the summer!
LAST WEEK'S WINNER FOR THE BIRTHDAY GIVEWAY WAS DEBBIE FULLER! Debbie email me lorelei@loreleijames.com to claim your prize!
XOXOXO
L~