Happy New Year! What's up, peeps? I'll admit I've been pure SHITE at social media the past 3 months. Been in me own world, you know, dealing with…oh nothing major…besides figuring out a direction for my writing career…
But I'm not here to chat about that today. I'm here to share what went on in Lorelei's life in November and December. I won't be separating them out because to be honest, the months kind of ran together for me. I did a crap-ton of crafting; I have pics of some, and others, well, I didn't manage to snap pics before I presented them. So here are the crafts I managed to finish and photograph:)
WHAT I CRAFTED
Like I said, LOTS of Christmas ornaments. Let's just assume these are all from kits, since I'm not to the stage yet where I'm making my own designs…I actually did 3 versions of this reindeer ornament — this Scandinavian themed one, a red and gold one and a green and silver one — all turned out super cute 🙂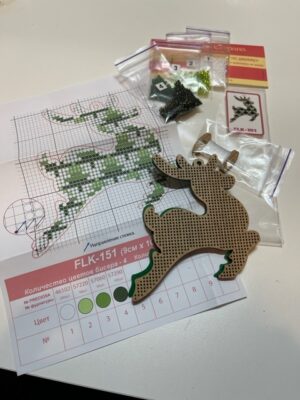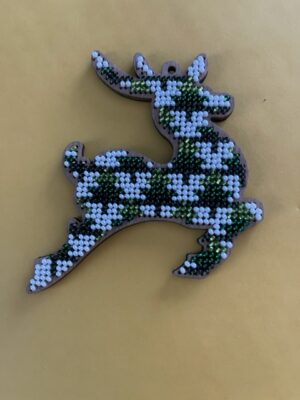 The unfinished aspect of this kit bothered me, so I ended up painting the wooden part, one sparkly green and one sparkly silver and it improved them tenfold!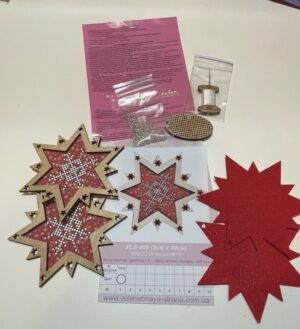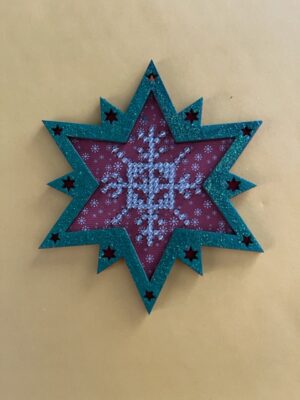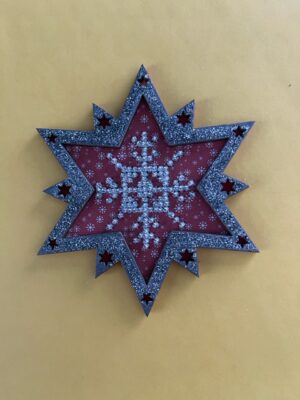 Again, these were plain wooden ornaments I found in my Christmas stuff that I'd purchased in Germany, but hadn't put together. I opted to paint one traditional green (with sparkles of course) and one a mix of silver and white. I'm super pleased with how they turned out and I kept them for myself. Each side has 4 coats of paint so they took time.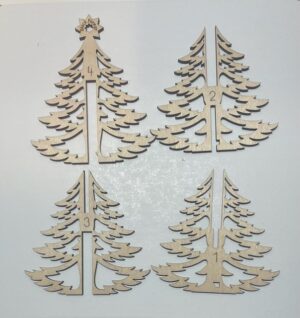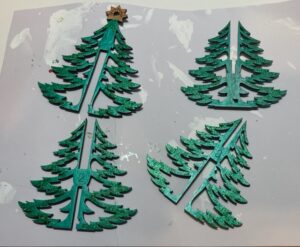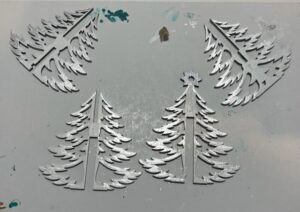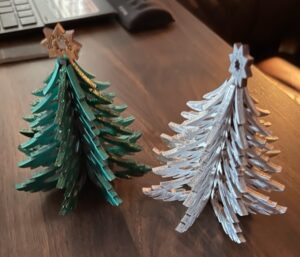 These wool embroidery kits are great to work on, on planes. I finished this one on the return trip from Houston — although I'd started it in September. I have all of these funky 70s inspired images stacked up in my craft room and I don't know what to do with them. Maybe make a wall hanging?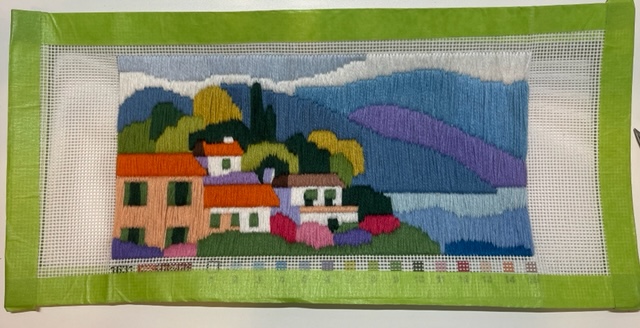 I've shared my love of silk ribbon embroidery and thought…I should make Christmas ornaments with silk poinsettias. Rather than mess up a bunch of silk ribbon, these were my practice attempts with polyester/cotton ribbon. They mostly gave the the shape I was after, but they're about the size of a silver dollar and I knew I had to make them smaller.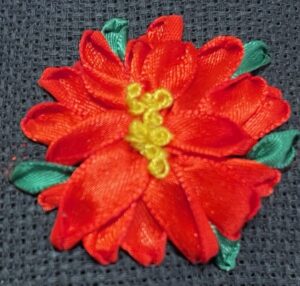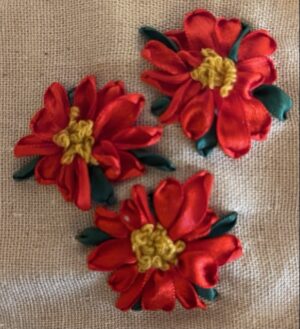 And because I can't seem to make just ONE of something, here are the 7 ornaments I made, on various materials, with different colors of red and green. Since the frames where just cheapo wooden ones, I painted them a variety of red and green and one is gold. I had a ton of fun with these. Just for reference, here's a close up and the length of the entire ornament is 2 1/2 inches..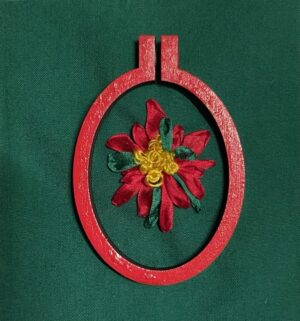 This is the biggest ornament I beaded — it's 4 X 5. It is really pretty and the beads shine much more than the picture shows. I also snapped a pic of it next to a regular pair of scissors for comparison. Yes, this one took me a LONG time. So the other 3 in this series will have to wait until next fall to get finished.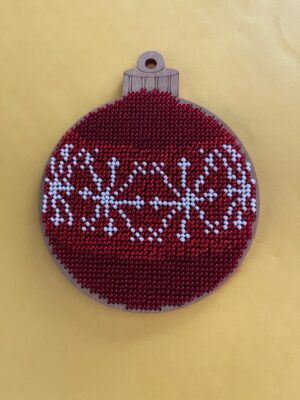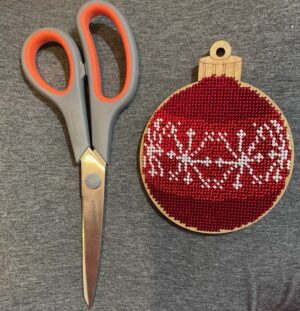 I also did 3 different patterns of this tree, again, love how the gold and red look together. Also adding a pic with scissors for size comparison.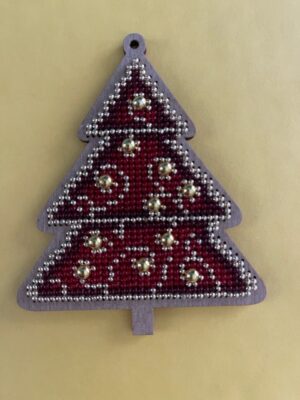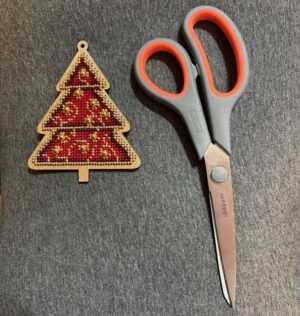 I honestly don't know why I didn't take pictures of everything, maybe because I did multiples? Anyway, I did 2 other versions of these stars, one of which was my own design.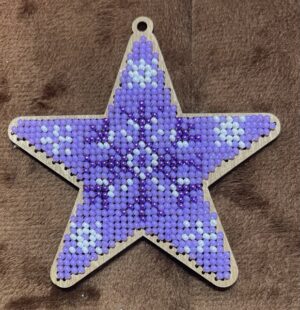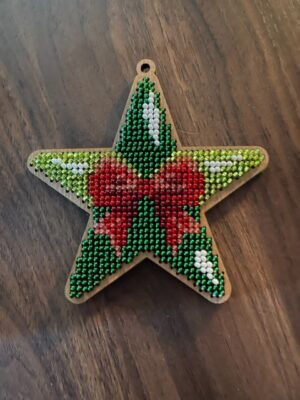 I wish I was a better photographer because the shininess of the beads doesn't really come through. The left one was a lovely purple and it looks blue even next to the blue ornament.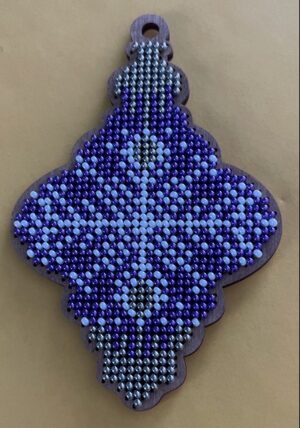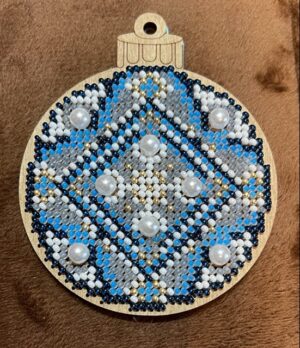 Here's the pattern/kit for the bird one I did for my bird loving friend Tammy 🙂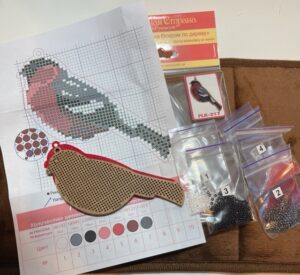 Um, yeah, I might be obsessed with these kits from the Ukraine. Here's another different tree!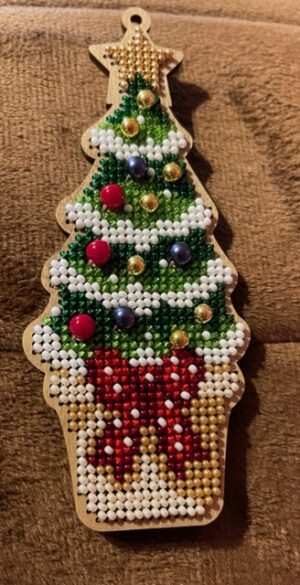 I beaded these fridge magnets for my girls and my mom for their stockings, cute, huh?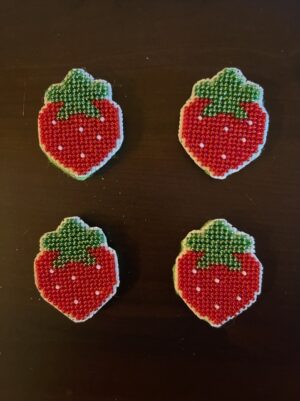 I found this wooden ornament at a local store, but again, I was unimpressed with the plain wood. So I painted them. Since none of our girls live here, I got one for each of them and painted them all a pearly white with the word sweet a different color.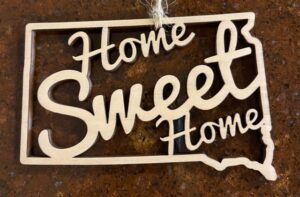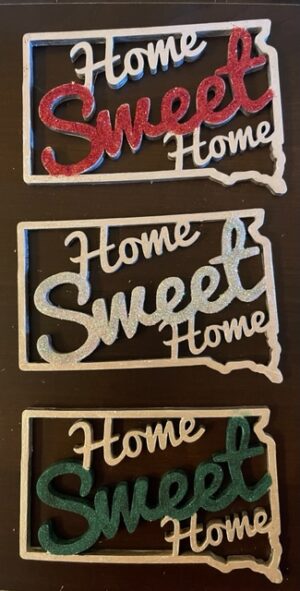 I have a couple more that I didn't get sent off in time for Christmas that I'll share next month after I've mailed them!
WHERE WE TRAVELED
In November, we got to spend 6 days in Houston with our youngest and her husband. They were on Thanksgiving break so we had an epic boardgame marathon–we played 27 games! Really relaxing and so much fun. We even designed and painted a rainbow mural on the baby's nursery wall 😍so excited to meet this baby girl in March. Since my son-in-law and I were the only drinkers, we did hit a couple of local breweries 🙂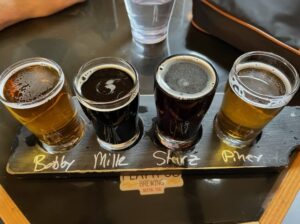 We also visited Johnson Space Center (fully masked) and it was AMAZING. As always the trip ended too soon, and we hate that D3 lives so far away, but they have a good life in Texas, and that's comforting to see first hand.
In December we traveled to Denver. It'd been TWO MONTHS since we'd seen the grandbaby and we were jonesing for Lolly and PopPop time. The other reason we went was for an Avs game! PopPop volunteered to stay with the precious one, while D1, her hubby, and I went to the game. I got us killer seats, mostly because I had a credit from March 2020 when Covid hit and I was finally able to use it. (Side note: we were also supposed to go to an Avs game on Dec. 29th with the Houston kiddos on their way back home, but the game got postponed which sucked) And it's always more fun to be the winning team on home ice! Great view, huh?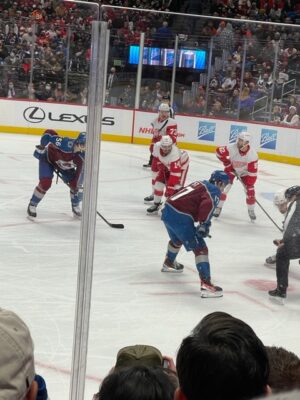 WHAT I COOKED
Mr. James smoked some pork in early November and because we'd purchased a small turkey breast on one of our shopping trips, he decided to throw that on the smoker as well. Full disclosure: neither one of us are crazy about turkey. BUT WOW. Smoking it….whole different story. I ended up making hot turkey sandwiches two times that week and they were outstanding.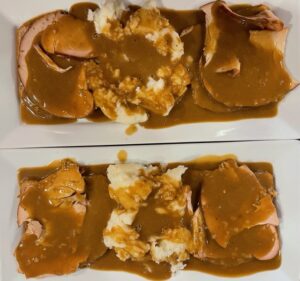 Not hard to figure out we didn't do a traditional turkey dinner when we were in Houston, instead we made a prime rib. I like to make a different dessert every year so I was eager to try a cranberry orange pie recipe. It was super easy, a perfect mix of sweet and tart. So good, in fact, that we made it again for Christmas eve! If you're looking for the recipe just type cranberry orange pie into google 😁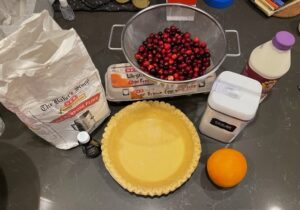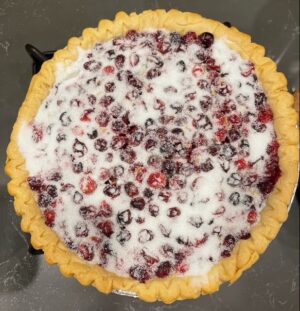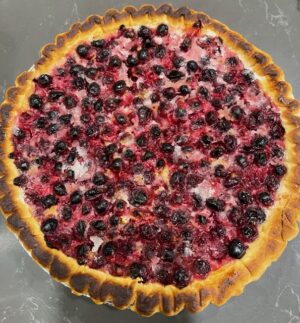 Now we're to the Christmas cookie fail portion of the post. I found these cookie tins in my Christmas dishes and wondered why I'd never used them.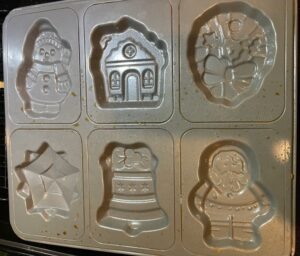 So I took them to Denver for some cookie making fun with the granddaughter. Mixing the dough went great. Baking the cookies…well, this is how they turned out: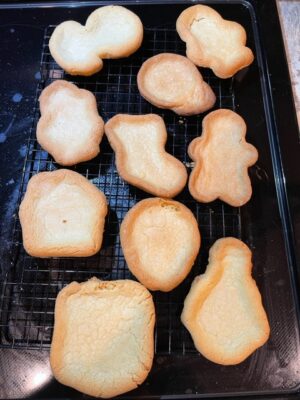 HIDEOUS. Flip them over and none of the detail showed. I threw the tins in the recycle bin. No need to keep them since I now know how crappy they were.
I had leftover roast meat, potatoes, carrots, gravy and onions so I thought…how about making a pot pie? I added a small can of peas, used packaged crust, and TADA — a super easy, super delicious supper that we stretched into two nights.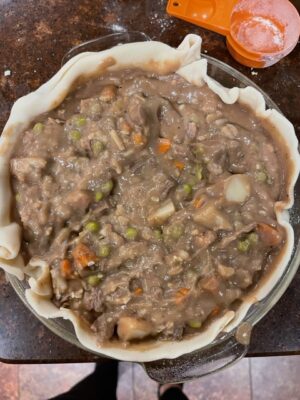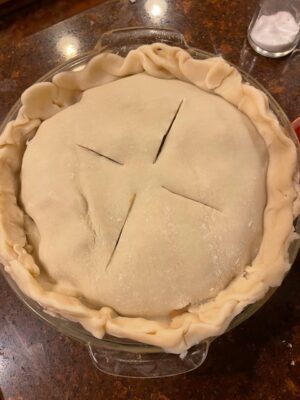 When we were in Houston, I discovered D3 is into the Great British Baking Show. As we'd never seen it (I know, I know, where have I BEEN) I immediately got hooked on it and watched the first two seasons 😯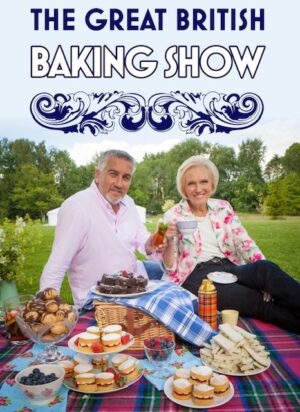 And suddenly, I wanted to bake ALL THE THINGS. Fancy things. Alas, I'm not set up for fancy, and I have no patience, so I decided to play baker's roulette with what I had. A brownie mix, strawberry preserves and butter. I created a two layer brownie with a strawberry lime filling and lime butter cream icing. Apparently I AM good at buttercream icing because OMG I could've just sat down and eaten the entire bowl with a spoon. Here's my effort, and we all know that Paul would knock off major points for presentation , especially how the middle layer somehow looks like…meatloaf? 😂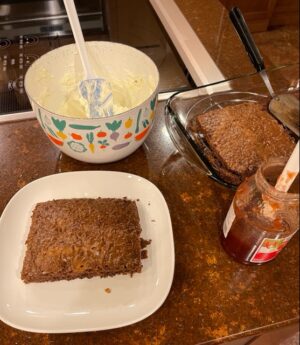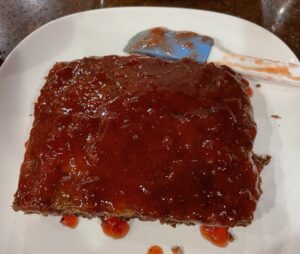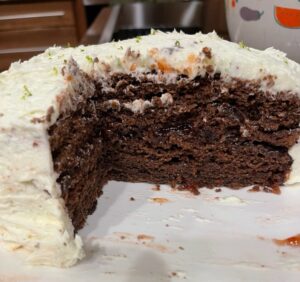 I used to make orange rolls every Christmas morning — and then Pillsbury bought the Cinnabon name and started putting tons of cinnamon in them (they never had it before) so I've had to come up with my own version of orange rolls. These turned out great. Yes, I bought plain crescent biscuits and didn't make mine from scratch.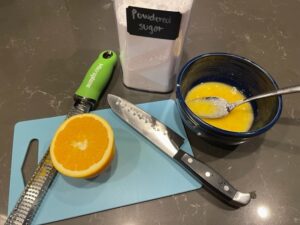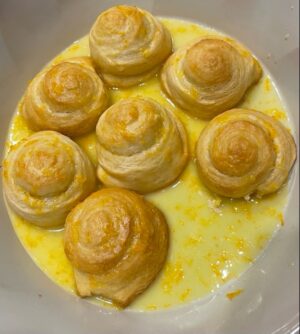 The only other pic I managed to snap in December was of Mr. James prime rib. Yes, it was every bit as delicious as it looks 😋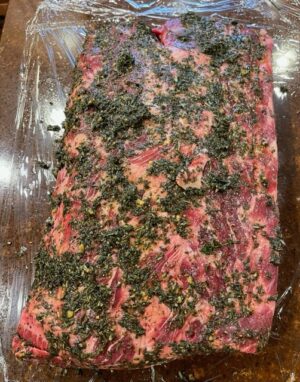 WHAT I READ
I've kept my reading to right before bed, so it seems to take me FOREVER to finish a book. Plus, my memory ain't what it used to be, so in two instances when I've purchased a new installment in an existing series, I can't remember what the hell happened, so I have to go back and read the first book to remind myself. Sigh.
The Scholomance Series, Naomi Novik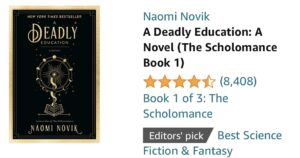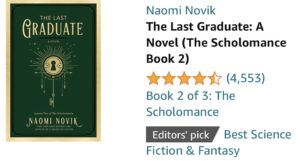 I reviewed book 1 last year and LOVED it. So much, that I paid full price of $13.99 for the 2nd book in the series when the kindle edition released. I got about…10 pages in and decided to skim book 1 to remind myself what it was about. Umm. Yeah. Ended up rereading book 1, which took forever and when I finally got to book 2…it also took me a MONTH to finish it. It wasn't bad, it just wasn't great. D3 felt the same way when she read The Graduate, so I didn't feel like I was alone in my assessment that it was SLOW. And it ended on a fucking cliffhanger, and since this author releases one book a year…yeah, not happy I have to wait until OCTOBER to finish this trilogy.
The Saint of Steel Series, T Kingfisher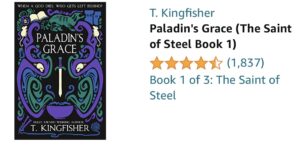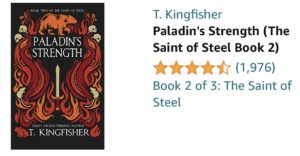 I reviewed book 1 and loved it. But again, I couldn't remember it, so I did a reread before I started book 2. I also really enjoyed this one, the series is so unique. I bought book 3 and it's on my list to finish next before I forget what happened in books 1 and 2…
Not to be a tease…but I read an ARC and loved it, but I cannot share who wrote it.  However, I will review it the month it releases 🙂
WHAT I WATCHED
When I look back, it seems that I spent a bunch of time in front of the TV. Hmmm. And believe it or not, I don't craft in front of the boob tube.
The Witcher, season 1 AND season 2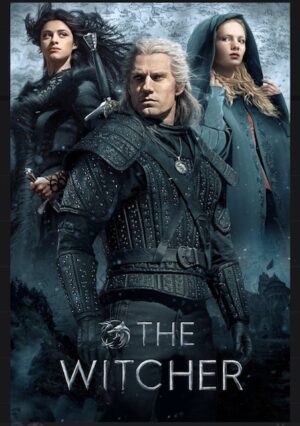 It'd been a couple of years since season 1 debuted, so we rewatched it in preparation for season 2. I LOVE this series. Henry Cavill as a hot, badass with a sword? YES PLEASE. But the storylines are so good, and the all the characters are so fascinating. Can't recommend it highly enough!
Free Guy, digital rental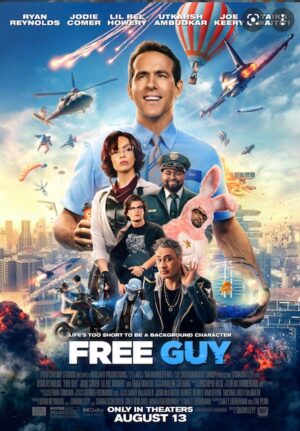 I ADORE RYAN REYNOLDS, seriously. I'd debated about actually going to the theater to watch this one, but alas, I waited until it released digitally. It was funny and sweet with explosions and bad guys and just awesome entertainment.
Red Notice, Netflix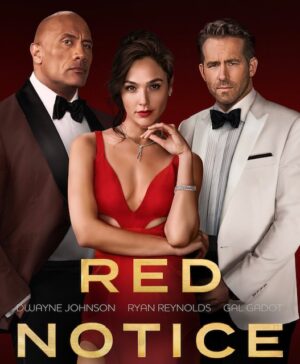 RYAN REYNOLDS AND THE ROCK? Sign. Me. Up. This was a super fun action movie with great one liners and a kickass female in addition to the 2 hotties. Looks like there will be a sequel — hooray!
The Hating Game, digital rental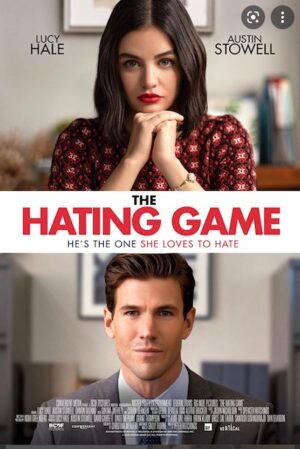 I might've mentioned a time or twenty that THE HATING GAME is one of my favorite books ever and the fact it got made into a movie? SO happy. And I really loved this adaptation. Some things were different, but the heart and soul of the movie were still there, with the funny moments and the poignant ones as well. The casting was spot on. Seriously adored this one and I highly recommend it!
Wheel of Time, Amazon Prime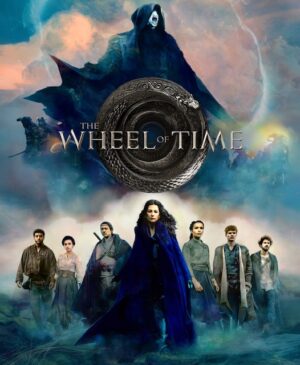 I've never read any of the Wheel of Time books by Robert Jordan — I don't know why, maybe because there are so many installments? Anyway, I decided to give the TV series a try. And while I liked it, and I'll definitely watch another season, it seemed a little uneven. Lots of action in one episode and lots of dialogue in the next. But I LOVE me some Daniel Henney as the fierce warrior protector. And maybe this sounds weird, coming from an author, but I still don't have any interest in reading this series…or the Witcher series. I'd rather watch.
Matrix Resurrections , HBO Max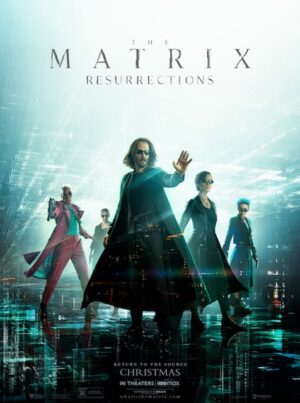 I was a huge fan of the original Matrix trilogy so it was a no-brainer to watch this newest installment. I loved the story concept, loved the acting and the new faces that are part of the franchise. A big hit for me. And also…Keanu. Enough said.
Nobody, Netflix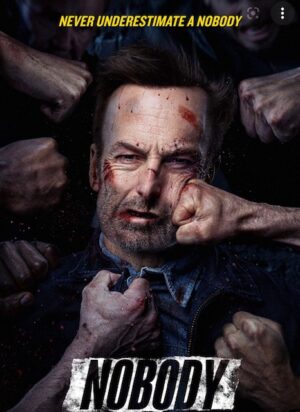 All you need to know about this film is it was created by the people who did the John Wick series. It is very violent, very funny, with a great lead character. If you liked the JW movies, you'll like this one too.
The Harder They Fall, Netflix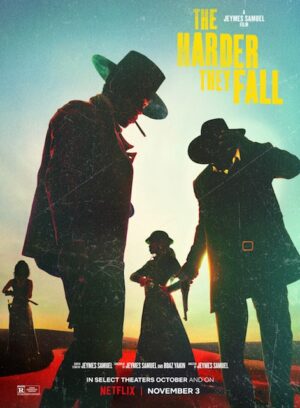 One of THE best westerns I've seen in a long, long time. I cannot tell you how much I LOVED THIS! And Idris Elba as the badass? Sign. Me. Up. Seriously, if you haven't watched this one, you NEED TO.
Fantastic Fungi Documentary, Netflix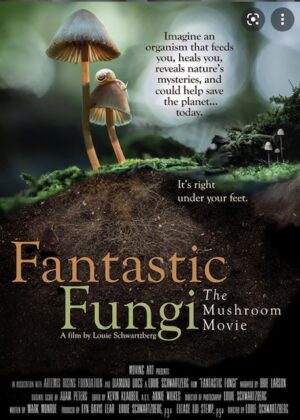 Such a cool, informative movie! Made me want to delve deeper into the mushroom culture. Super weird, cool sidenote: If you watch Star Trek Discovery, you know they have a "spore" drive which fuels their interspace jumps. And the scientist onboard who pioneered the spore drive? Paul Stamets — who is the main topic of this documentary! It is awesome that they used the leading mycologist in the world as a real character in a fictional world
HOCKEY — since I paid for the NHL package this year, I've watched lots of Avs games. Fingers crossed they continue to do well🏒🏒🏒
AUDIOBOOKS I LISTENED TO
Since I did so much crafting, and audiobooks are my jam, I got a ton of listening time in.
Immortals After Dark series, books, Kresley Cole, Audible purchases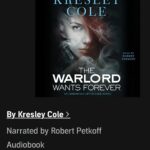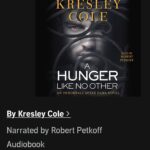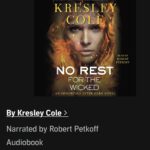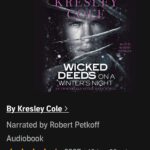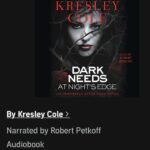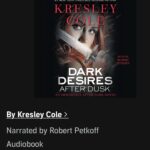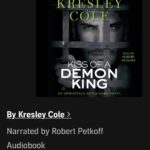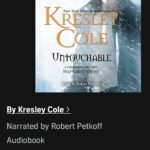 Okay, so I make no secret that I'm the biggest Kresley Cole fan EVER and when I read that she has a new book MUNROE coming out in January, I FREAKED OUT. Then decided I needed to listen to all 19 book in the series before that one releases. This is as far as I've gotten, and in compiling this list, I realized I LISTENED TO THEM OUT OF ORDER. I hate that. UGH. But Robert Petkoff is the best narrator out there, and these have been a joy to listen to. I'd forgotten how much I love this series.
Here and Now and Then, Mike Chen, Apple audio purchase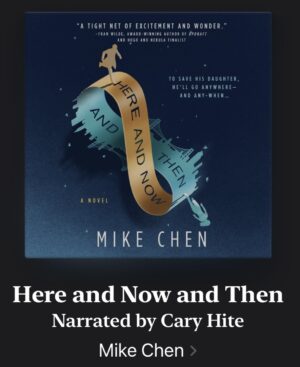 This is a time travel, sci-fi tale that's a little twisty, but good. First time read by this author and I enjoyed the narrator.
The Grey Bastards, Jonathan French, Chirp sale purchase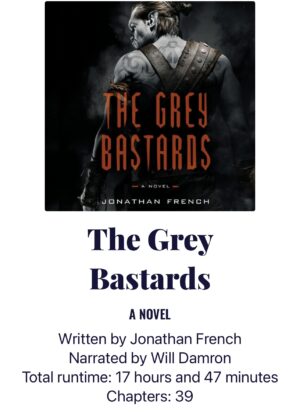 Because I like to mix up my listening, I bought this one that has Orcs as main characters. Yes, Orcs. It's violent, it's funny, it's unique, it's got great camaraderie between the characters. I liked this one so much I plan to finish the trilogy with the next 2 books. Awesome narrator, too.
The Girl Before, Rena Olsen, Apple audiobooks purchase
This book disturbed the hell out of me and it takes a LOT for that to happen. The story is told in present day and flashbacks about a 6 year old girl getting abducted and then being "groomed" by her abductors. It highlights how clueless a young girl is when she's isolated from society and lied to and abused. And I don't want to "yuck anyone's yum" but after reading this book, I have no idea how readers can stomach the "kidnapped to be a sex slave" fictional books. At all. Especially after reading this book that is so damn real that I can't believe it's fiction. The story is heartbreaking and awful and so well done that it lingered with me for days after I finished it. I recommend it only for people who can deal with traumatic storylines.
Getting Real, Emma Chase, included in Audible Plus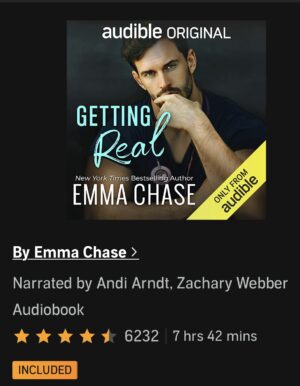 I'd listened to the 1st two books in this series and when I saw this one was included in my Audible Plus account, I downloaded it. And I needed something funny and light after the dark book I listed above. As always, Andi Arndt and Zach Webber were outstanding.
Cake, J Bengtsson, Audible Purchase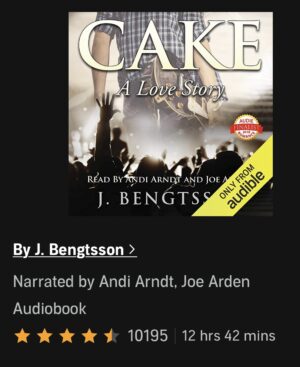 It'd been a while since I'd listened to a rock star romance, and if I would've known it had an abduction element (after reading The Girl Before) I probably would've skipped it. I'm glad I listened to it, and I love Joe Arden and Andi Arndt so that made it worthwhile. I know there's more books in the series, but I'm not sure I'll continue.
Lady Isabella's Scandalous Marriage, Jennifer Ashley, Chirp purchase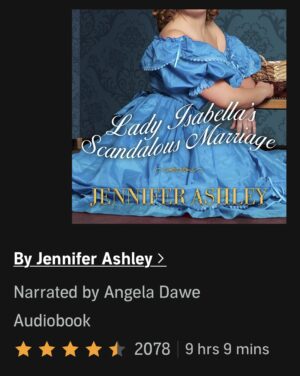 I shared last time how much I loved the MacKenzie's series, and this book just proved I need to keep going with it. Funny, sexy, sweet, with great characters and excellent narration. I have the next 3 cued up.
Good As Dead, Susan Walter, Audible Purchase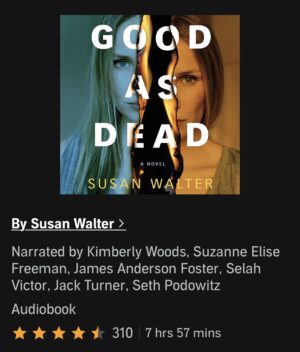 I don't know what prompted me to buy this book. The narration was great, but the storyline….really had a hard time believing it. Like super hard, and I read paranormal.
ODDS AND ENDS
I had oral surgery on December 6th and it knocked me down more than I thought it would. I don't get the actual implant until…April I think. Couple that with my stupid, mysterious knee injury, which has been diagnosed as arthritis (really? I believe it, but why the hell are my MUSCLES so damn sore and they haven't gotten any better at all?) and I can complain about getting older with a straight face.
D1, D2 and I had a baby shower for D3 on December 23rd. We had such a good time and the zoom portion of it went very well. Here's the diaper cake my mom made (the shower was Winnie the Pooh and Rainbow themed)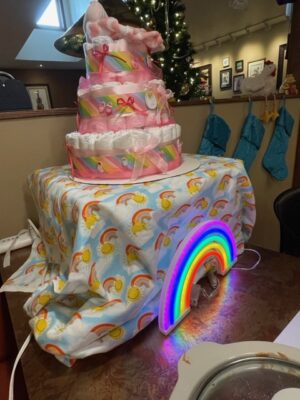 I was so fortunate to have all the girls home for part of the holiday. D2 had to fly out on Christmas morning and her connecting flight in Denver got cancelled but I managed to get her onto another flight, so she was one of the fortunate ones that didn't spend Christmas in the airport.
We had so much fun with our granddaughter. 2 1/2 is such a fun age! She is obsessed with fire trucks, so we took her to the Firehouse Restaurant, where they give kiddos plastic firehats and the girl was in heaven! Pictured here sitting on her uncle's lap…check out the stickers on her face 😆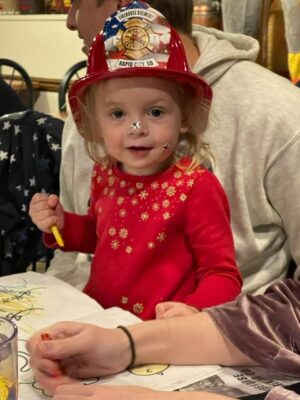 I mentioned this on IG and FB, but we'd scheduled a teeth cleaning for Copper on the 28th and also had the vet remove a couple of lumps at the same time. She called me when he was under and said they found another lump under his chin and it concerned her enough that they sent it off for testing. Crossing our fingers that it isn't anything serious, but we are worried about our beloved doggo…here he is chilling on the couch and you can see the 3 places where he's been stitched.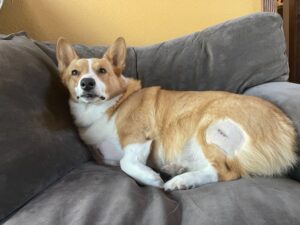 ONWARD TO 2022!!
I'm not one to make resolutions, but I do have a few things to change about myself and my attitude this new year. I refuse to let fear of failure keep me from working on various writing projects. I plan to sharply curtail my crafting and audiobook listening to focus on getting my career back on track. I needed a sabbatical, but I'm not ready to retire: I'm ready to write!
I've also decided to curtail my spending for this year. It's too easy to make excess online purchases, so I'm unsubscribing to my go-to sites. If I don't see it, then I won't be tempted to buy it, I'm even limiting my book purchases with a couple of exceptions. I have enough books on my TBR pile and enough unfinished craft projects to get me though at least 5 years, if not more.
Anyone else making a few changes this year?
CONTEST!!! Okay, I totally forgot that I FINALLY got mass market paperback copies of SPUN OUT! Isn't it pretty?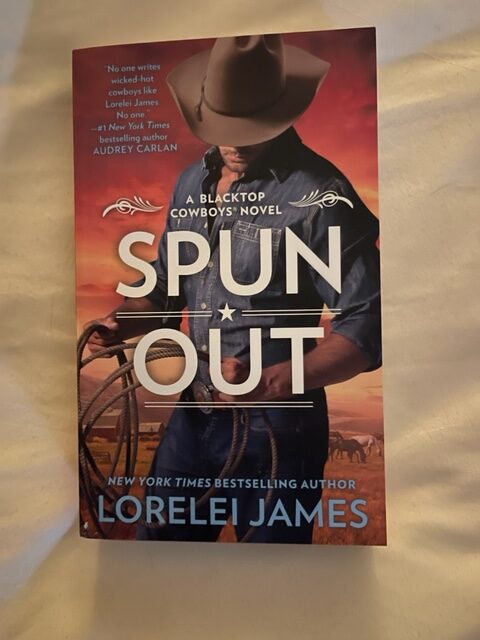 Yes, they released last year, but the publisher didn't send me any copies until the first part of December. So that's the contest — comment and you'll be entered in to win ONE OF THREE copies I'm giving away! The more comments I get, the more inclined I'll be to give away more copies!
So share your memories of November and December with me and my blog readers. I love hearing what you've all been up to and I have made it a goal to try and figure out a way that you all can post pics in your comments so I can see what you've been up to.
HAPPY NEW YEAR and thanks so much for sticking with me for another year 💖💜💗💙💚💛
XOXO
L~