Happy Saturday! The sun is shining here, I have a few flowers blooming and my secret project is progressing nicely 😍
Last week I mentioned I'm back to work, and even after writing for 20 years and being published for 15 of those years, two things haven't changed:
I CANNOT listen to music with words when I write. I'd start singing along, because really, I'd be listening to music I loved and the next thing I'd know I'd be typing what I'm singing and then I'd start thinking about what the songwriter meant by phrases like "soft-spoken with a broken jaw" and I'd lose the thread of MY story completely.  That said, a few years ago I signed up for a service called Brain FM. It's unique in that you can choose they type of session, intense concentration, creatively inspiring or relaxing. Then at the end of the session you rate how productive you felt you were and they take that data and adjust the style of the music to better suit what YOU need out of it. I don't use it all the time, but it is another tool in my writer's tool box.
I need aromatherapy when I'm writing. Again, this is not a secret. My go-to is usually candles, but I have tried oils in a "mister" complete with a glowing rainbow of soft lights that really made me feel boho, hippie chick, free-love and pass the bong. But invariably, I returned to candles. My preference is Yankee Candles. They are consistently fragrant and that's vital for me. That said, yes, some scents I've tried are much stronger than others and I tend to gravitate toward them. But also, I'm always on the lookout for a new scent, so I scour the shelves at TJ Maxx and Ross Dress-for-Less and Burlington because they carry one-off weird things that didn't sell elsewhere. I've found some great ones like this: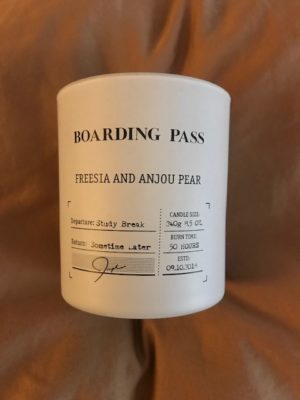 Seriously, that is a dumb-ass "title" for this candle. When has an airport, train or bus station ever smelled like flowers? Anyway, freesia is one of my favorite flowers and it's hard to find in candles because it is SO fragrant that it tends to be overpowering. I found this one in Denver last time I was there and I just fired it up this week. It is a soy candle and to be honest, it didn't start giving off a discernible scent until I'd burned half of it. Then it was heavenly. The downside to buying one-off candles is I usually can't find them for sale anywhere once I've decided I'd like another one.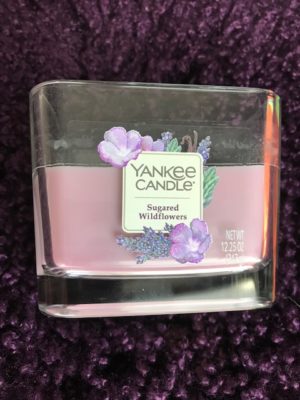 Yankee Candles is always putting out new options in scents and sizes. Their seasonal candles are some of my absolute faves. When I came across this limited edition series, I bought each one, sort of grumbling to myself that this was the largest size the store was carrying (it's about 4 in X 4 in) and in that smaller size, they'd placed THREE wicks. Ugh. Talk about shrinking the burn time. Anyway, I LOVE this scent. It literally is sugary and flowery and I've not smelled anything like it. I took that picture 2 days ago and since I've been writing and literally burning the candle at both ends — ha ha — there's only a quarter of the candle remaining.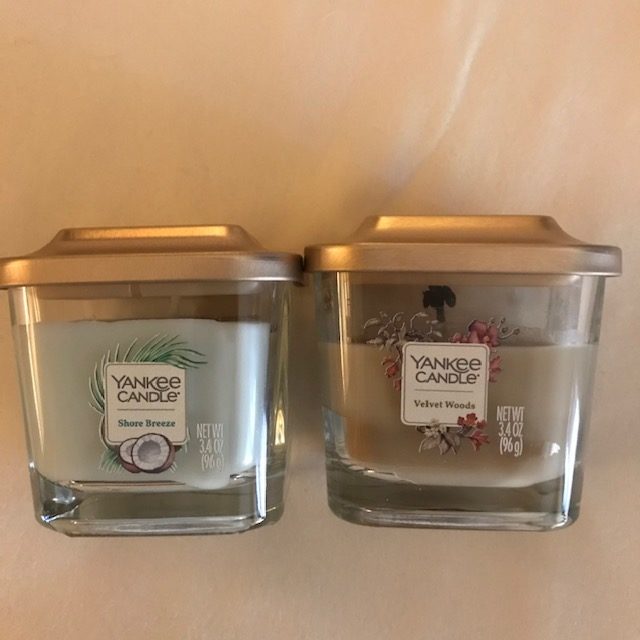 These two fragrances were in the same collection as the Sugared Wildflowers–I think there was another one I burned but I don't remember the scent, sorry. Now these babies are even smaller than the 4 in X 4 in — they're like 3 in X 3 in. They have one wick. As you can see I haven't burned the Shore Breeze one (I'm crazy for anything coconut!) been saving it for a shorter writing project since I doubt it'll last more than 2 days. I started the Velvet Woods and then it got lost in my office only recently found again. It is a sandalwoody-floral that does throw the heavy scent I prefer. Last time I checked, Yankee hadn't put these fragrances out in larger jar glasses, and I haven't done deeper research to see if these are part of a seasonal line you can only get at a certain time of year.
I hadn't planned on making this post a Saturday Six, but I figure since I've already blathered on about candles that you'd like to hear my favorites -😀
LILAC BLOSSOMS — can't tell you how many of these I've burned and how many books I've written while this scent enveloped me
MANGO PEACH SALSA — it has such a fresh summery scent that I burn it year round
JUICY WATERMELON — same with this, I love the sweet fruitiness
SNOW ON CHERRIES — exactly as it sounds — cold and fruity, yet warm. My go to Christmas candle I only burn in November and December
BALSAM AND FIR — okay, I switch back and forth between this one and the cherry scent, but I burn through at least 2 of each in the holiday season
STARGAZER LILY — youngest daughter gave this to me for Mother's Day 3 years ago and I've NEVER been able to find it again sadly 😌
It's funny that my mom also loves candles, but she hates anything fruity or flowery, she prefers Buttercream or anything vanilla based. Anytime I catch that scent, even in the store, I think of my mom. My oldest daughter's favorite is Pink Sands. My middle daughter always asks if I'll save the spent jars because she wants to create her OWN scents 😆My youngest daughter always has a Yankee Clementine Oranges car freshener in her vehicle.
So are you a candle person? If so, what are your favorites? Or are you one of those types who thinks "UGH stinky-ass candles" and no judgement if you are 😱