Howdy from Denver! I've been here since Tuesday — grandbaby's regular daycare closed so I begged agreed to come down and take care of the precious one 🙂 It has been fun but holy crap is she a busy little bee! I'm so thankful that I can fill in when needed.
With the massive Covid-19 outbreak in South Dakota, our daughters have wisely opted not to come home this week. It sucks, but it's the safest thing all around. It'll be a very quiet Thanksgiving when we were looking forward to mass chaos of kids and dogs and fun and games 🙁
Since I'm about to get on the road home to Rapid City (dry roads, no snow forecast) I wanted to share what has become one of my favorite soups: Moroccan Carrot Soup. I don't make it: Mr. James does. And honestly, before you go….ewwwww….hear me out, okay?
First off: I'm NOT crazy about carrots. Never have been. So when he found this recipe and wanted to make it, I think I made a poop face. Pureed hot carrots? HARD PASS. But it honestly was love at first bite. It is SO easy and SO cheap and SO good….
This isn't an original recipe — so not in the cookbook, and I'd really love for you all to try it and let me know what you think!
Here's a pic of Mr. James' batch from last week with a toasted piece of Naan bread 🙂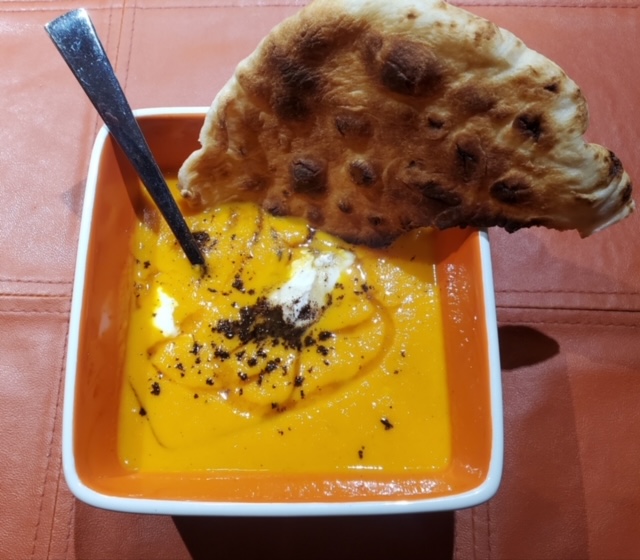 Moroccan Carrot Soup
YIELD:Makes 4 servings

ACTIVE TIME: 20 minutes

TOTAL TIME: 40 minutes
INGREDIENTS
2 tablespoons (1/4 stick) butter
1 cup chopped white onion
1 pound large carrots, peeled, cut into 1/2-inch dice (about 2 2/3 cups)
2 1/2 cups chicken broth
1 1/2 teaspoons cumin seeds
1 tablespoon honey
juice from one lemon
1/8 teaspoon ground allspice
1/2 cup plain Greek yogurt, stirred to loosen
PREPARATION
Melt butter in large saucepan over medium-high heat. Add onion; sauté 2 minutes. Mix in carrots. Add broth; bring to boil. Reduce heat, cover, and simmer until carrots are very tender, about 20 minutes.
Stir cumin seeds in small skillet over medium-high heat until fragrant, 4 to 5 minutes; cool. Finely grind in spice mill.
Remove soup from heat. Puree in batches in blender until smooth (or use an immersion blender). Return to same pan. Whisk in lemon juice, and allspice.
Ladle soup into bowls. Add a tablespoon of yogurt, drizzle honey over the yogurt and sprinkle generously with cumin. Salt and pepper to taste
Per serving: 154.7 kcal calories, 42.1 % calories from fat, 7.2 g fat, 4.5 g saturated fat, 22.1 mg cholesterol, 18.7 g carbohydrates, 3.2. g dietary fiber, 11.8 g total sugars, 15.5 g net carbohydrates, 5.0 g protein
WINNERS FROM LAST WEEK! 
Email me — lorelei@loreleijames.com with your info!
Jen Hickle
Joyce Mull
Kristi Palmer
THANKS EVERYONE for your comments last week! And remember when I said I was so excited about Sarina Bowen's new book Loverboy that releases Dec 1st? That awesome woman sent me an early copy — so I'll be passing on the love next week, giving my thanks, and giving away at least FIVE copies to lucky readers!
STAY SAFE AND HAPPY THANKSGIVING!
L~