April showers bring may flowers….or in our case in South Dakota, April SNOW finally melts to allow the flowers to bloom.
I've been writing all week and as my reward today, I'm spending all day outside cleaning out my flower beds. I'm hesitant to do it too early because…snow, but also, I wait until I see bees buzzing around. That means the insects needed to pollinate the posies are up and out doing Mother Nature's bidding.
Look at this big, fat, happy bumblebee 🙂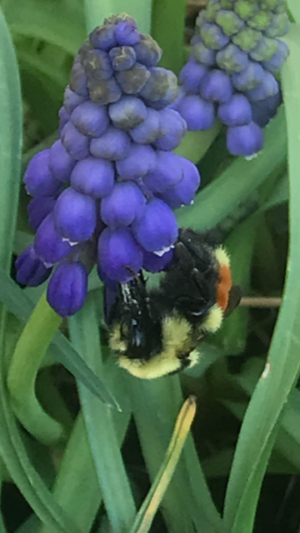 I planted these grape hyacinths only 2 years ago and they've already spread beautifully. I planted them in a circle around the pine trees because little else will grow there.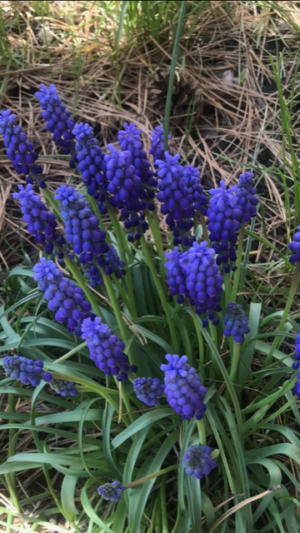 I *believe* the difference between jonquils and daffodils is daffodils are one solid color and jonquils have 2 or more colors. Here's a jonquil- only the 2nd year it's bloomed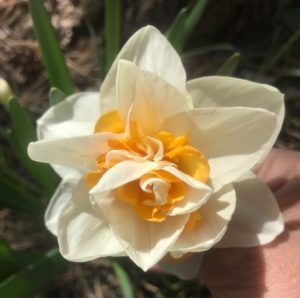 This isn't a great pic of the daffodil 🙁 I think it needs water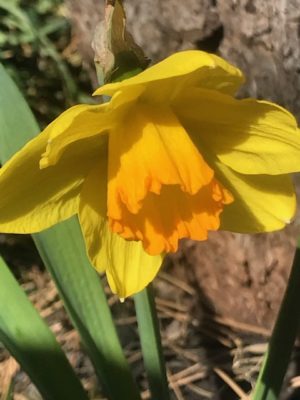 I don't remember what this little yellow flower is — you can see how small the bloom is by the size of my finger in the background. Does anyone know what it is?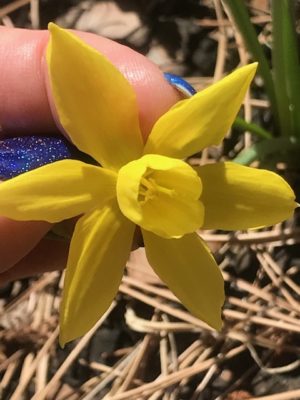 And last, but certainly not least – MY PEAR TREE IS IN BLOOM! Last year a late snow froze every bloom off every one of my fruit trees and I didn't have a single piece of fruit. It was pretty disheartening because we had the wettest summer I can remember and it would've been a spectacular year for peaches, pears, plums and apples.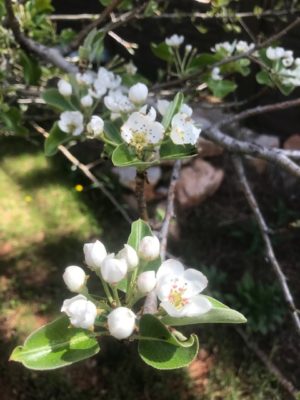 My lily-of-the-valley are up, but so far not a single bloom. The iris are up too, but that's usually late May blooms for us up here in the north. I am worried about other bulbs I have planted — for some reason we had voles this winter. Lots of voles apparently, they left big tracks all over our yard and my fear was they got into my bulb garden. I guess when I start cleaning out today we'll see how much digging damage there is. My sunburst locust tree, which is in that same garden, isn't looking too good either and I worry the damn things ate the roots of that one. There's really no cure for voles except for poison and I hate the thought of Copper somehow getting into it, or voles crawling under my deck to die and then there's the stink and mess of that, so I'll just…let it go for now. Anyone has vole removal tips, I'm all ears.
Thanks for stopping by the blog today! I'd planned to share a recipe for no-bake cookies, that I was going to make last night. But Mr. James came home from the store with an ENTIRE cheesecake and the last thing I needed around was more tempting chocolately goodness.
***BONUS*** My favorite joke when I was a kid: If April showers bring May flowers…what do May flowers bring?…..wait for it….PILGRIMS
😂😂😂😂😂😂😂😂😂😂😂😂😂
Have a lovely weekend everyone! I'll probably get sunburnt, but I will HAPPILY take that chance today!
L~