September 25, 2021
Happy Fall Y'all! Okay, I'm not southern, but that sounds better because it rhymes 🙂
Sorry I missed a post last week. Had a girls weekend out of town and I was having so damn much fun with my peeps that I hadn't seen for TWO YEARS that I was completely offline.
Now, we're in Denver this weekend, visiting the fam and we'll be babysitting the grandgirl this evening so her parents can have a night out 💕💕💕
Next week I'll be participating in South Dakota Festival of the Book, which has been changed to a virtual event, rather than an in person event in Deadwood, SD. Next Saturday I'll be online with two other authors discussing writing in multiple genres, and as soon as I have a link to that, I will post it so you can see the event if you're so inclined.
Also, this event WILL still be held in person and we always have so much fun, behaving badly for a good cause! Oh, and ignore the misspelling of my name 👀😵😂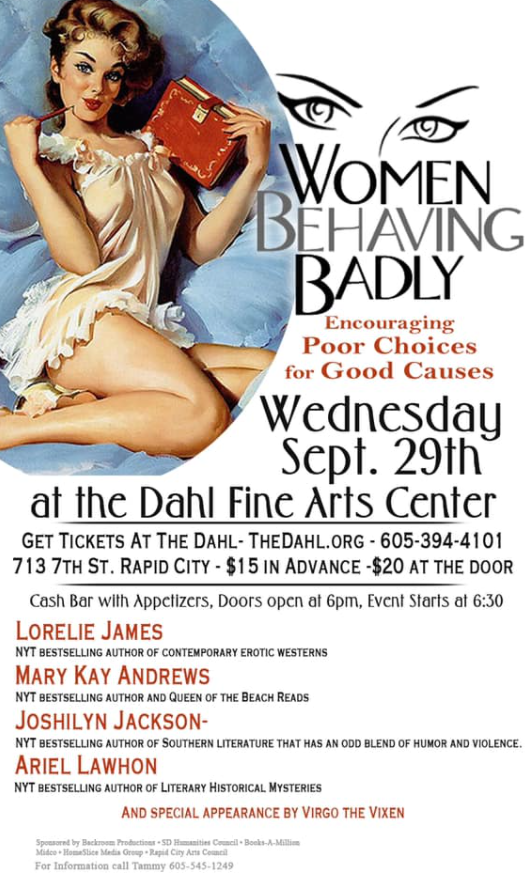 Don't you wish you could come?
The winner from last month's wrap up post was SUSAN WILLIAMS — Susan, contact me lorelei@loreleijames.com — for prize info.
Have a great weekend everyone, and stay tuned to the blog and social media for updates on next week's virtual event!