I like to cook, as you all know, and sometimes I fall down a rabbit hole looking for new recipes. Many are meh and I won't make them again, but let me tell you…
THIS IS THE BEST CAKE I'VE EVER MADE
And guess what? I made it in the slow cooker! No lie. It was insanely easy and I had all the ingredients on hand, which is probably the only reason I tried it. So good readers, here is the recipe–not my own, I honestly don't remember where I found it :
Pineapple Coconut Slow cooker Cake
CAKE Ingredients:
15.25 oz box yellow cake mix
1 cup water
3 eggs
1/2 stick melted butter
20 oz can pineapple rings (drain them, save the juice, puree the rings and save 1/2 cup of pulverized pineapple for glaze)
1 cup coconut
Directions:
Add the cake ingredients into large bowl and whisk until the batter just comes together, do not overmix.
Spray the slow cooker with nonstick spray and pour in the batter, smoothing it out with a spatula.
Cover and cook on HIGH for 2 hours, keeping the lid on THE ENTIRE TIME.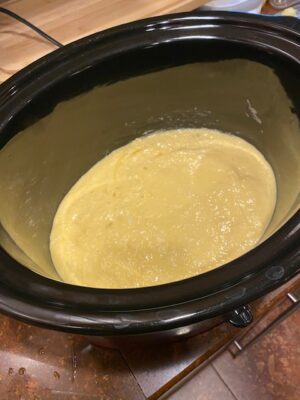 The last five minutes of cooking time, start the glaze:
GLAZE Ingredients
2 cups powdered sugar
reserved crushed pineapple AND liquid juice
1/4 cup melted butter
1/2-1 cup coconut (I love coconut so I used 1 cup)
whisk all ingredients until a sauce forms
Pour mixture over the warm cake
Turn off slow cooker, replace the lid and let this soak into the cake for at least 10 minutes.
I poked holes in my cake because the glaze seemed a little liquid-y 🙂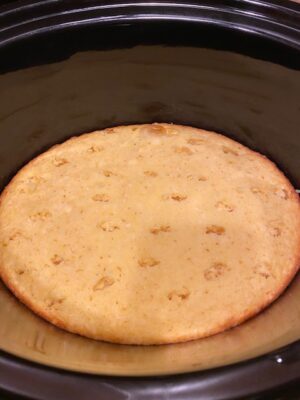 I'll admit, this isn't a pretty slice of cake, but it is so damn good.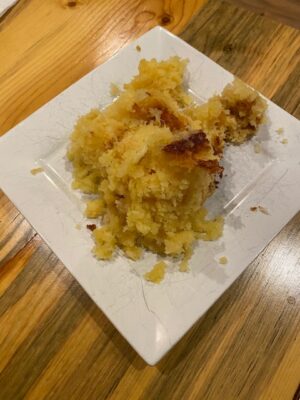 I warmed it up had it for breakfast too! Try it and tell me if yours turned out and if you liked it!
L~