Last week's winners posted at the bottom of the page! THANK YOU everyone for the comments and for coming to my monthly wrap-up blog. I'm thrilled you all seem to care what I've been up to in my spare time and I love hearing what everyone else is doing for entertainment and just how life is going. I read every comment and I'd intended on commenting on every comment, but…I'm WRITING y'all, and I figured you'd be more excited that I'm back to slaving over a hot keyboard anyway 😝
Let's talk…crafting! Almost as soon as I finished the beaded lily–I should call it the gilded lily! hahaha–project, I started on another beaded project. The problem was (is) that the project is HUGE. Like I had to buy another hoop, a big rectangular one, as well as a hand's-free stand for it because there was no way my arms wouldn't get tired if I attempted to hold that hoop for hours. I debated on spending the $$ on it, but I've purchased quite a few of these beading kits so I figured it'd be worth the investment. This pic gives you an idea of how BIG both the project and the stand is: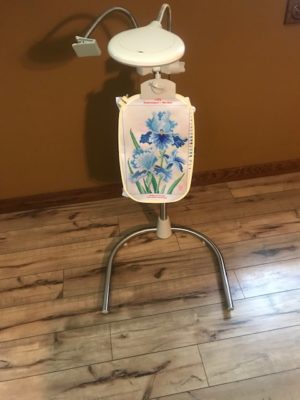 I found a semi-comfortable position and spent…oh, roughly 8 working hours ON ONE COLOR. Here's a close up of what I accomplished: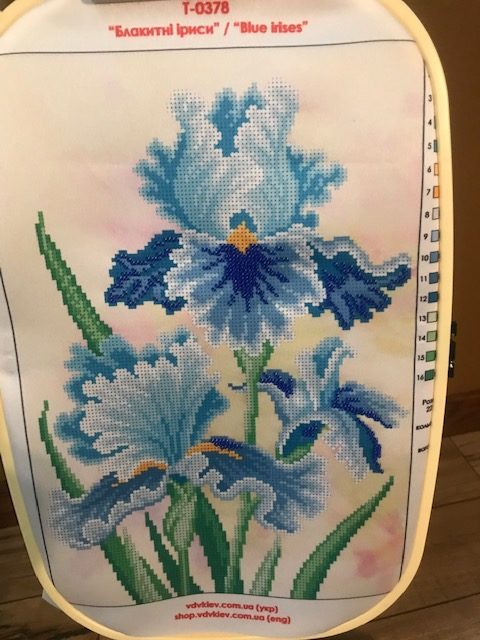 Not a lot to show for those hours. The image will be gorgeous when finished, however…I'd intended to have my next pandemic posy done for my mom for Mother's Day. I reluctantly put it aside, but to be honest, it is still attached to my hand's-free stand and I sort of just keep moving it around my house. For inspiration, maybe?
I sorted through my kits, and opted for this one. It is called "Poppies and Chamomile" and the finished image is larger (6 X 8) than the lily image (5 X 5). I snapped a pic at the start of beading: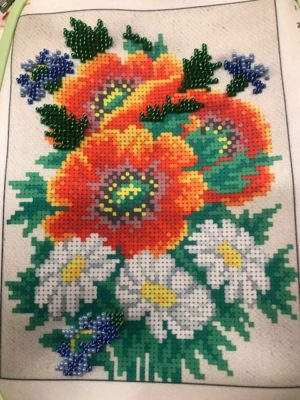 I did have the foresight to purchase the bundle of 5 various sizes of rectangular hoops, because this project required one too. The only drawback to these beaded projects is the entire image has to be in the hoop, I can't move the hoop and work on smaller sections or else the hoop itself would pop the beads off. Since I've been writing during the day, I only worked on this project after 9:00 at night, with the exception of beading one entire day, which allowed me to sort through the plot problem I was having with the book. I didn't keep track of how many hours this took me, mostly because it was so damn fun to work on I didn't care! Side note: when my dad and husband studied the finished project last Sunday, they did the math as far as image size, bead size and beads per square inch and estimated there are 10,000 beads, which seems like a lot, but hey, I didn't want to tell them their math was wrong 🙄
TA DA!!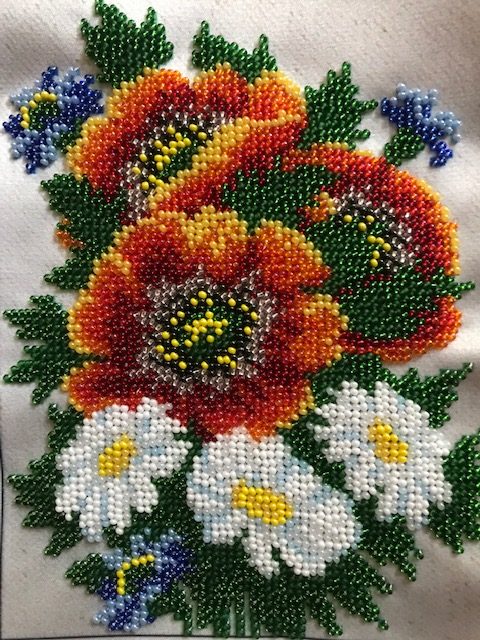 My mom loved it, which was the whole point! I'm happy with how it turned out, although at one point I thought I'd gotten the wrong color of beads in the kit because what looked like purple in the color guide was actually a clear bead — you might be able to see it in the centers of the poppies. The super weird thing? The picture on the box gives the impression those beads are purplish. They are obviously clear when the finished image is in hand…but when I took this picture? The clear beads look…purple. Weird. I will say that when I was working with the oranges and reds of the poppies, I had to rely on the pattern chart and not the printed colors on the fabric. The dark beads would shade the colored squares to the point no matter how much light I used, I couldn't tell which orange I needed. Plus, it was a good lesson for me that it pays to follow the instructions.
I will be doing a couple of smaller projects next — gifts — because I love making these. It fills a creative side of me I'd been missing for years. I'll be honest though, I sort of worry that not everyone would be thrilled with one of these as a gift…. So the question of the day (NO wrong answers) is if someone made one of these pandemic posy type crafts, would you smile politely and shove it in a closet because it doesn't match the decor of your house? Or would you be happy to receive a hand-crafted gift and display it?
Ooh, if you're a crafty person and have spent time doing crafts during the pandemic, post a picture in the comments! I love seeing what others are working on 💖
Until next week peeps — stay safe!
L~
WINNERS from last week!
Sarah Taylor
Amanda Hendrix
Lisa Seiters
email lorelei@loreleijames.com 

to claim your prizes!