JULY was a whirlwind for us. Our girls and their families were home, we had a wedding in the midst of a pandemic, we headed to Texas to drop off the newlywed's gifts since their car is small and friends and family were very generous! Then we decided…what the heck…we have an RV, we can social distance at all the outdoor spots we've always wanted to see, so we meandered down to Houston and back up here–we were gone for 11 days and got home late last night. So a day late, here's the month that was:
FAMILY TIME — all the girls and their families were here for the wedding so we had a houseful (which after being empty-nesters is my favorite thing) We cooked, drank, laughed, hosted a bachelorette party, hung out, played games…and yes, went to the lake. Here's a pic of me holding the precious granddaughter on her very first boat trip!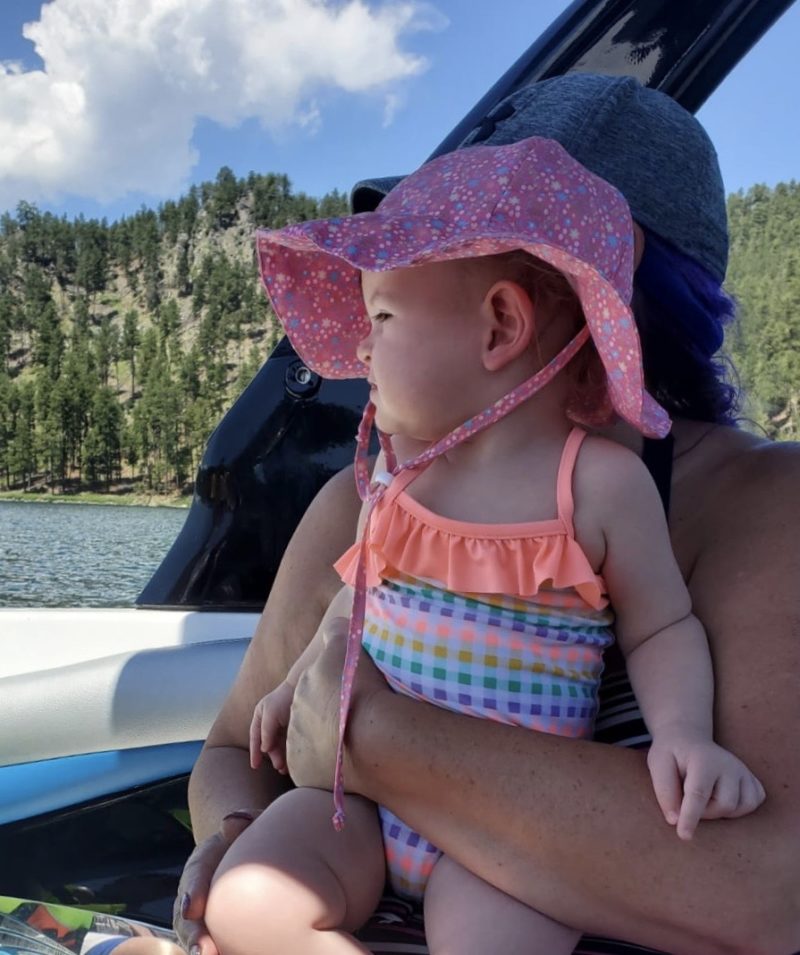 THE WEATHER
It hails here frequently so I'm used to flowers, vegetables, cars and our house getting damaged. But this storm was something else. In the 35 years of our marriage I've NEVER seen baseball sized hail. Heard about it, but never seen it firsthand…until now. There was only room in our garage for 3 cars so mine and my son-in-law from Bellingham's vehicles bore the brunt. It knocked chunks of drivet off our house. Here's a pic Mr. James took of some of the hailstones: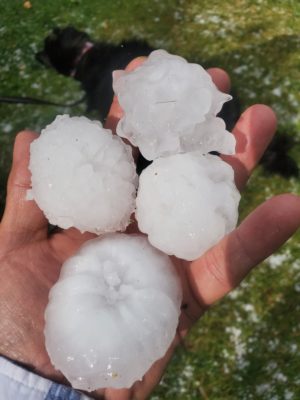 THE WEDDING
Maybe it was crazy to hold a wedding during a pandemic, but we took as many precautions as we could. The venues for the outdoor ceremony and reception were great about setting up social distancing parameters and we provided masks and hand sanitizers to everyone. Attendees mostly stayed within their family groups and even the dance party after the dinner featured a large dance floor. The weather was sunny and warm but not hot. The ceremony was so personalized and so perfectly them. The flowers were incredible thanks to my mom 🙂 The wedding party looked fantastic and my daughter was beautiful and HAPPY. We had quite a few cancellations the week of the wedding, but that was to be expected. Our daughter and fiance have been dating for 7 years and engaged for a year and a half, and were ready to make that lifetime commitment in front of those who could attend. Yes, I cried at the wedding, but I really cried during the father/daughter dance when I heard that she'd picked "Wide Open Spaces" by The Dixie Chicks (now The Chicks). So many memories of that song and the words just gutted me this time. Anyway, here's the happy couple!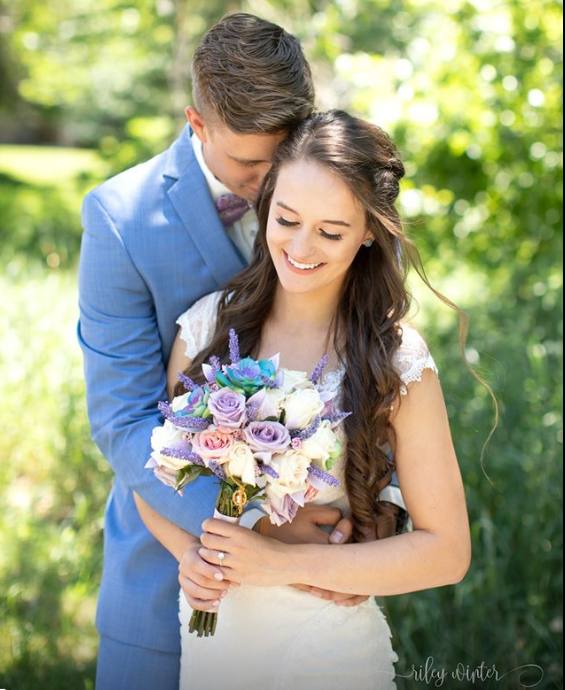 WHAT I READ
With all the wedding stuff, and kids home, and traveling, I only managed to finish three books in July. I started a few but didn't get through them.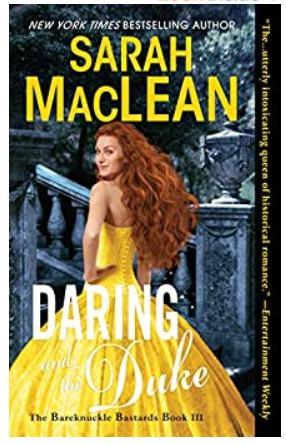 Daring and the Duke, by Sarah MacLean, historical romance–this is the last book in the Bareknuckle Bastards series and the love story I'd been waiting for. I ADORED this book so so much. Unconventional heroine, brooding, nearly mad with love and hate hero…star-crossed lovers, heavy sigh. I cannot wait to see what series the author comes up with next.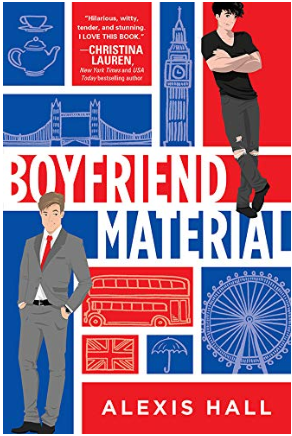 Boyfriend Material, by Alexis Hall, male-male romantic comedy–I'm a huge Alexis Hall fan and I've loved his other work. This one was a departure, in that the intimate scenes were closed door, not what I'd expected at all from this author. It's a quirky romp, if you're so inclined to give it a try.
Pretty Things, by Janelle Brown, psychological suspense?/mystery/confessional?–all the question marks are because I don't know how to classify it. I'd read another book by this author and remembered liking it. This one…it took me 2 weeks to get through. It was weird in that the characters are pretty unlikeable, it moved slowly, and I guessed a big plot point right away, (but that's the mystery author in me and not unusual) but it had a couple of plot twists I didn't see coming. It was written a bit unconventionally which threw me and it's a pricey book–$14.99 digital. I didn't hate it, but I have tons of other books I wish I'd finished instead.
WHAT I WATCHED
Again with all the family, wedding and travel, I spent very little time watching TV. However, I did make time for THIS the day it released!
Hamilton, musical, streaming on Disney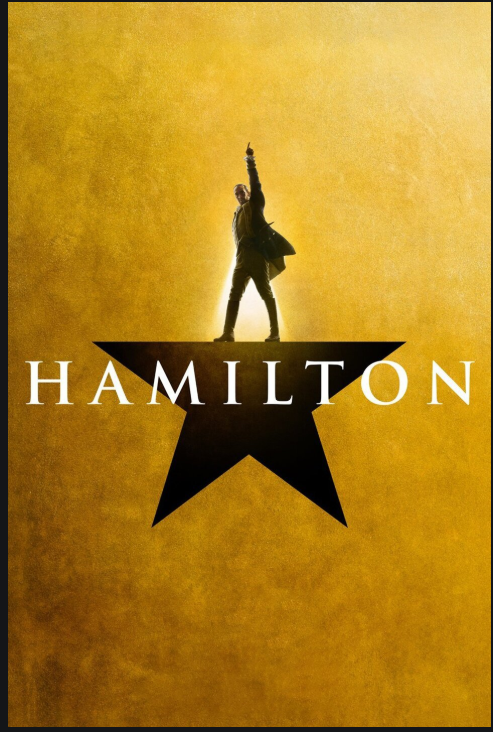 I was blown away. The music, the story…THIS MUSICAL IS EVERYTHING. Period. I really can't recommend it enough.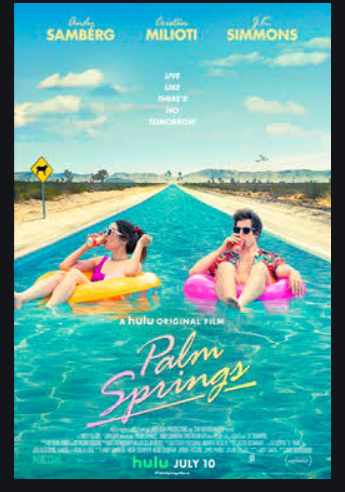 Palm Springs, movie on Hulu — This is a hilarious update on Groundhog Day and I liked it way more than I thought I would! It's funny and poignant and crazy fun. Watch it!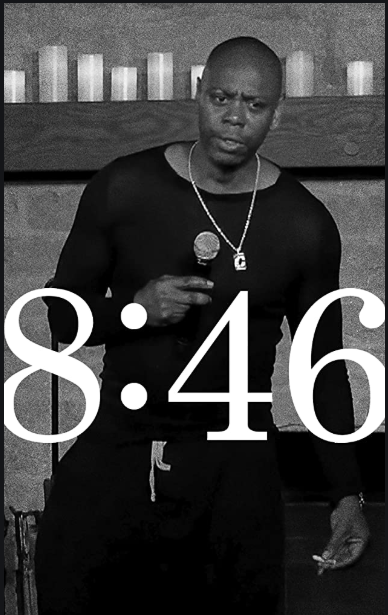 8:46, Dave Chappelle Special, streaming YouTube — Dave Chappelle is a motherfucking comic GENIUS and a master at honest social commentary through performance. I've loved him for years, watched every special, seen every episode of The Chappelle show and this…Jesus, this special, there wasn't a whole lot funny about it. And that's why EVERYONE should watch this. He filmed it post George Floyd murder, and it is so insanely spot on that I cannot get it out of my head. WATCH IT.
FOOD, COOKING, ETC.
Again, with all of the July hullaballooooo, getting people fed and ready was more important than trying something new or healthy. July was the first month I'd eaten in a restaurant since MARCH. We didn't go out for our anniversary, and even when we traveled for 11 days, we ate at a sit-down place a total of 3 times. I did manage to snap pics of a few things I made…just so I could share them with you all!
Pineapple Upside Down Cake — leftover pineapple and cherries…makes sense to make a cake, right? It was a new recipe and I loved how the bottom carmelized,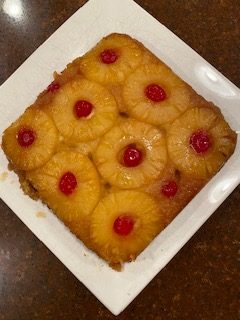 Quiche — again, needed to use leftovers so it had bacon, spinach, onions, cheese, basil…super easy and was even better the second day. This will go into rotation at our house because it's an easy way to use up veggies and eggs and cream that are almost past their prime!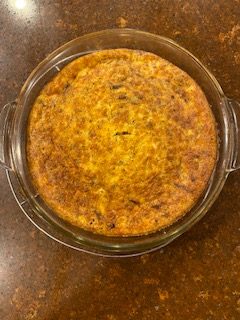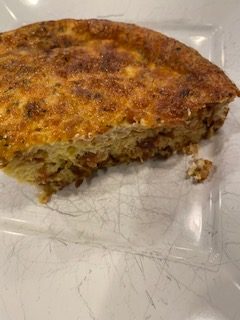 Tomatoes — this was the first picking from my cherry tomato plants! SO many and of course I couldn't use them all before we left, so I made: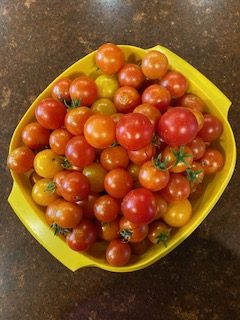 Bruschetta –(FYI did you know it's pronounced brU-SKET-taH and not bru-SHET-taH?) It is one of my favorite things to eat in the whole world — I LIVE for fresh tomato season! All tomatoes and basil from my garden!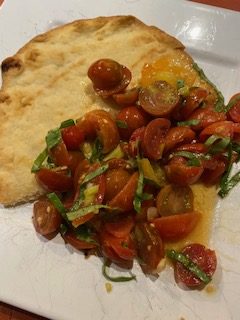 Since I still had a ton of leftover tomatoes, I pulled out my dehydrator and decided to make "sun-dried" tomatoes. Let me tell ya, they are YUMMMY. It took about 16 hours in the dehydrator (8 hours, then I shut it off overnight because I'm weird that way and then plugged it back in for an additional 8 hours the next day) Then I packed them in a little jar and poured just regular olive oil over them. It's supposed to keep in a dark cabinet for 4 months (don't refrigerate!)…next time I might try freezing them after dehydration. I'm posting pics of the process and the finished product as well 🙂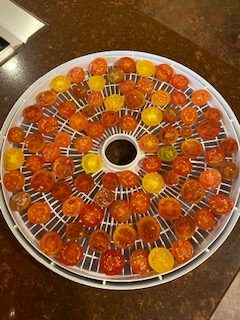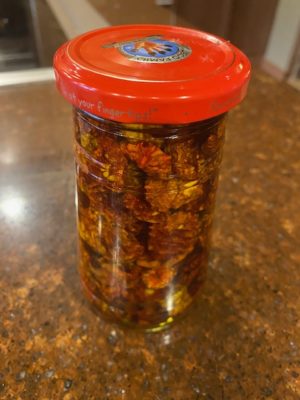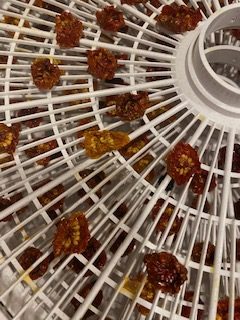 I was lucky enough to spend my birthday in Houston and my daughter MADE me purple ravioli for my birthday dinner. I didn't get a pic of the cream sauce she whipped up to finish the purple pasta meal, but trust me, it was DIVINE.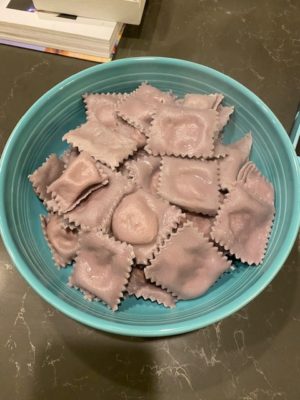 OOH, LUCKY YOU, PICTURES FROM OUR VACATION!
We had such a great time on our mini-vacation, knowing it'd likely be the only time we went anywhere this summer, that I want to talk briefly, about the stunning places we were able to visit:
Royal Gorge, Colorado–not what I expected, but fun to traipse across the bridge and look down 1200 feet below. Chances of me ever ziplining across it? ZERO. This view of the bridge is from atop a steep hill.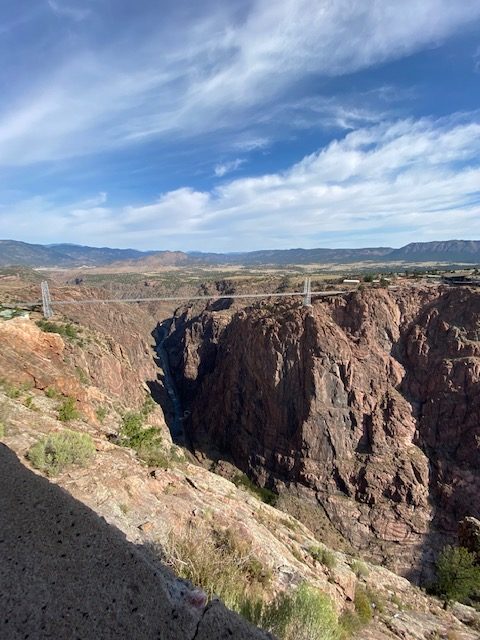 Sand Dunes National Park, Colorado — I had NO idea this place even existed. But it was only like 20 miles out of our way, so we opted to go, and man, am I ever glad we did. We are planning to go back! Since we had Copper with us, we only walked a little way out into the dunes when the sun made the sand too hot for his paws. I have no idea how the people made it to the top of the dunes when it was 125 degrees on the sand and were….sand-boarding. I do love this pic. It looks airbrushed, doesn't it?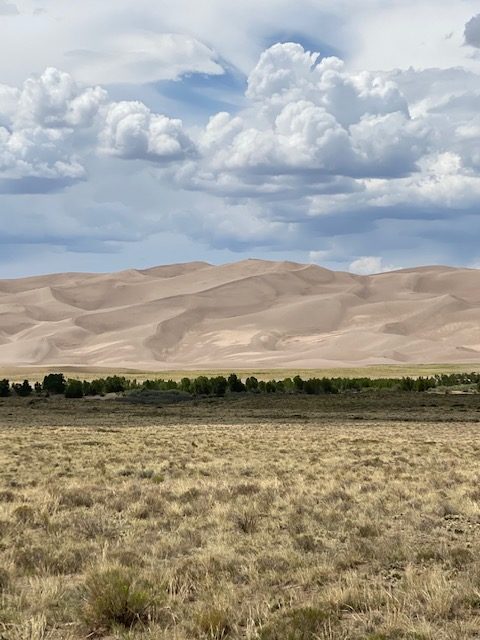 San Juan National Forest– Colorado/New Mexico — it was ridiculous how breathtaking the scenery was for MILES and HOURS.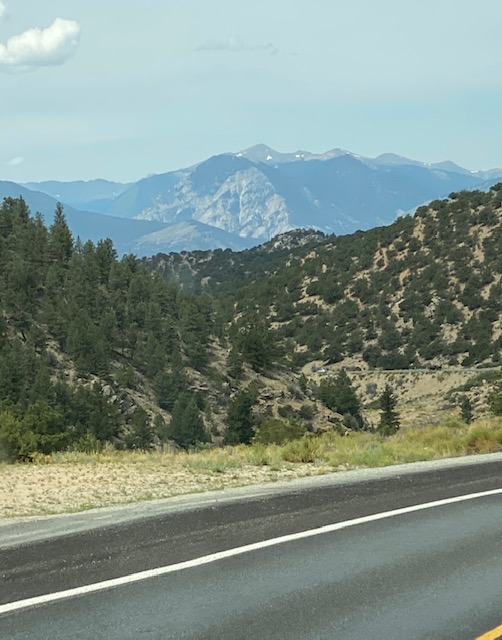 Utah Badlands, Utah — we have Badlands in South Dakota, so it was cool to see them elsewhere.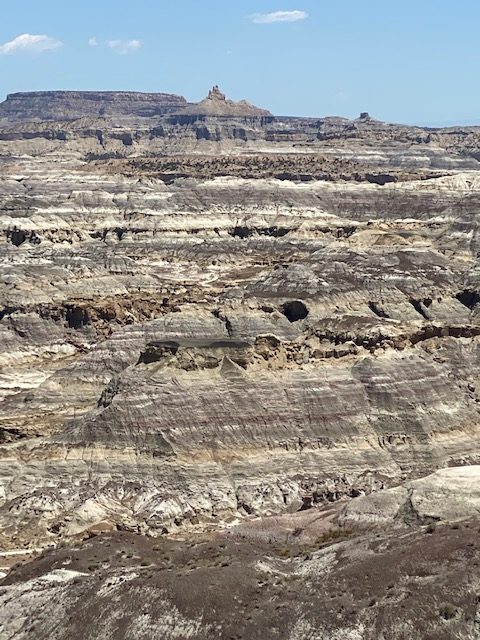 Arches National Park in Moab, Utah — one of the coolest places we've ever been and I cannot wait to go back! You can't imagine the vastness and stark beauty of the place unless you're standing there. We're already making plans to go back when there's no moon so Mr. James can get pictures of the night sky above those immense rock formations.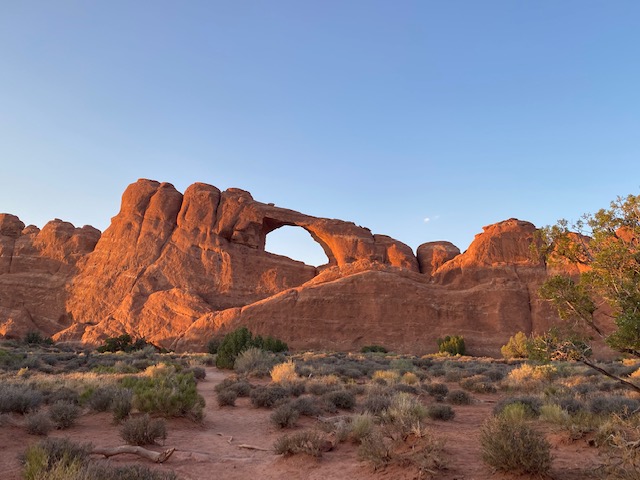 Telluride, Colorado — my daughter and her husband have been telling us to go to Telluride–a skiing and mountain biking mecca– for a few years so since it was only a 2 1/2 hour drive from Moab, we added it to the trip. It is a gorgeous city, up high in the mountains, very dog friendly! We loved it and again, we want to hike there next year when we have more time. This pic is from the Gondola that goes from Telluride to San Sophia Overlook which is about…10,000 feet, and that's the town below us. Crappy pic but nothing does the view justice.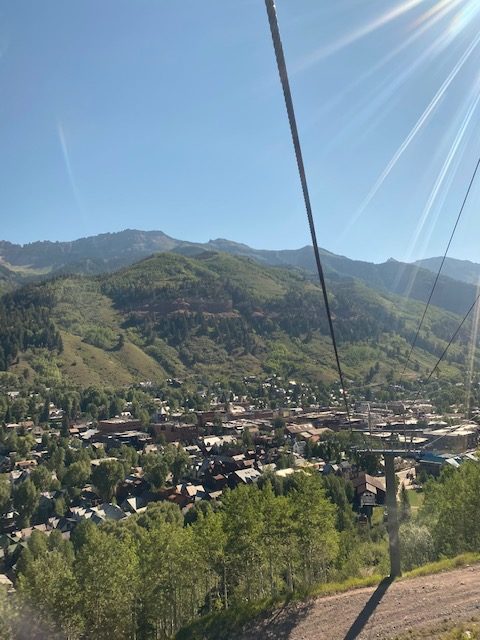 SO I'd heard of the "Million Dollar Highway" and we decided to head to Ouray, Colorado, which is where it starts. Ouray is another beautiful part of Colorado. What I didn't know was the highway is one of the TEN SCARIEST DRIVES IN NORTH AMERICA. And we were in an RV, pulling a trailer. Yeah, there were NO GUARDRAILS, drops of 1000 feet and it was harrowing for me and I wasn't even driving. Hell, I was so freaked out about plummeting to my death that I didn't enjoy the scenery at ALL. So when we got to the top at 11,000 feet, I took this pic of this bucolic green mountain with its babbling brook and fields of wildflowers to calm myself….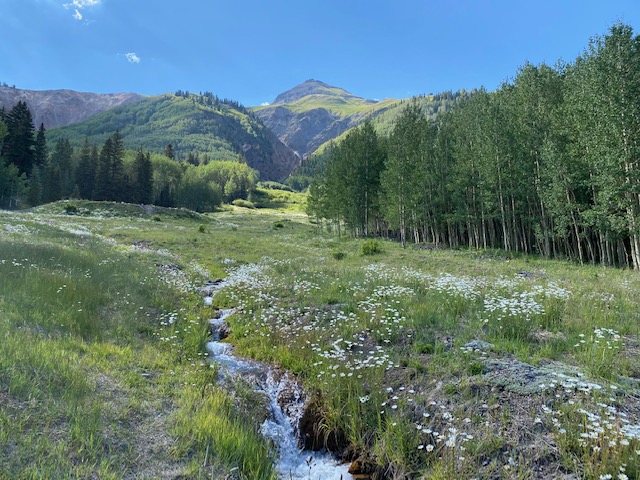 CRAFTS
I managed to finish one thing in June that was a gift for a close friend, but I didn't get it mailed to her until July, so that counts for this month, right? Anyway, this kit was supposed to be a mix of cross stitch and beads, but I revised it so the entire berry is made from beads. It turned out great and of course it deserved a blingy frame 🙂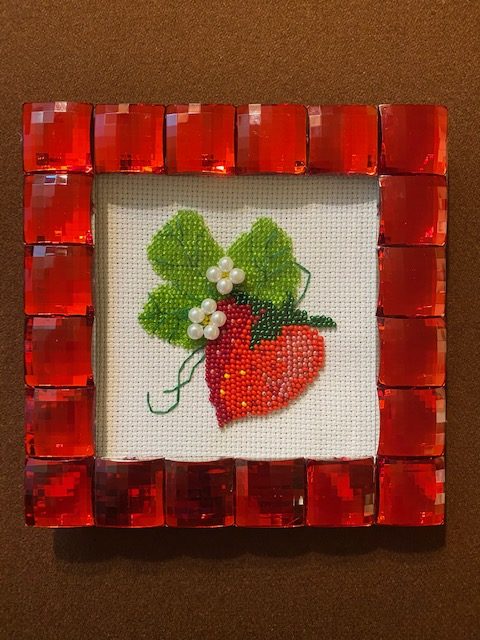 CONTEST — I don't know if you've heard, but I have a RELEASE ON TUESDAY. WANT YOU TO WANT ME, book 2 in the Want You series, Nolan Lund and Gabi Welk's fun, quirky, sexy sweet love story. Leave a comment about your remaining summer plans and I'll pick a winner for a signed print copy! The more you share this post, the more copies I'll give away! I'll announce the winner next week!
I'll be around all social media this week, so stop by the FB chat room or check in on Insta or FB or Twitter to see what's up during RELEASE WEEK!
XOXOXO 💚💙💗💖💓
L~